Whack Job: 1998 Italia Monza
Clothes, cars and freaky guitars – this offbeat 60s throwback is classic Italian design at its best.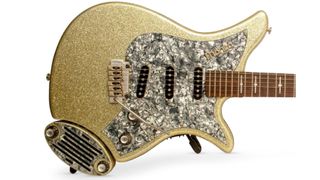 (Image credit: Future)
As a collector of what we smarmy elitists call "weirdos" or, indeed, "whack jobs," I have to say that the Italian birds of the 1960s still continue to amaze me. In particular, it's the Italian designers from that period that blow my mind and capture my imagination: the clothes, the motorcycles, the accordions, the scooters, the cars... These, and more, stand today as testaments to a time when imagination met not only humor but industrial practicality.
Italian guitars from the '50s and '60s, many of which were born out of retooled accordion plants, are no exception to that glorious, untethered lightness of design. Brands like Eko (which also produced guitars for Vox), Wandré, Crucianelli, Diamond, Panoramic, Welson, Galanti, Meazzi and Goya, to name a few, all share that unique and wonderful blend.
I guess I'm not the only guitar nut who feels that way, because the Italia Guitar Company – which was founded in England by designer and luthier Trevor Wilkinson – has been joyfully recreating that vibe for the past 20 years. This article is about one of Italia's early retro Italian-inspired designs: the Monza.
WEIRDO FACTOR
The shape is obviously a bit off-kilter, and the colors – a champagne-sparkle wrap with a grey MOTS pickguard and matching headstock – help transport its style back to the '60s. The fact that there is a matching mini amp that attaches to the guitar's lower bout, makes it an even wilder oddity.
The little amp, held securely in place with a snap, is pretty much what you might expect from a nine-volt-powered amp of its size, but what fun! Its clean tone gets about as loud as an acoustic guitar and is quite usable in a hotel room, on a couch, on a tour bus, or in the dressing room. Crank it to 11 and you get a pretty gnarly distorted tone. The amp is easily removed with one little twist, revealing the guitar's output jack. Neato! Um – I mean, dope!
PLAYABILITY & SOUND
Here's the beautiful thing about Italia guitars: Unlike their early predecessors, which sometimes played a bit rough and needed to be wrangled, these have a modern and familiar feel. Built from stalwart components, they convey a sense of ruggedness and roadworthiness.
Wilkinson designed not only that wonderful floating two-post, low-friction bridge (my personal favorite, by the way) but also the pickups, which are decidedly Fender-like, voiced somewhere between a Strat and a Tele. The maple neck with rosewood fingerboard sports 22 nicely dressed medium frets. Combined with a Graphalon nut, this baby sounds great and stays in tune. You can even dive-bomb the strings all the way slack and it will come back in tune quite nicely.
VALUE
I paid $400 for mine about 13 years ago. The Monza appears to have been discontinued, but used examples can be found for between $600 and $1,000.
WHY IT RULES
In addition to looking somewhat wacky, the Monza plays and sounds great and is quite affordable. What's more, you'll stand out with a guitar that doesn't look like what everybody else is playing.
To see Italia's other builds, visit Italiaguitarsusa.com
All the latest guitar news, interviews, lessons, reviews, deals and more, direct to your inbox!