The Whatchamacallit: an Unusual Instrument with an Even More Unusual Story
Reunited with its owner after 50 years, this custom double-neck is a blast from 1954.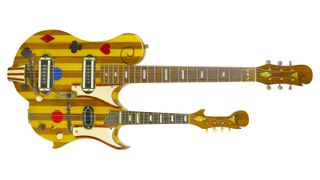 (Image credit: May Yam)
Sixty-five years ago, 16-year-old Jimmy Luttrell played this electric guitar with his band on The Ted Mack Amateur Hour, a TV talent-show precursor to America's Got Talent.
Jimmy, who hailed from San Pablo, California, was a prodigy who played guitar, mandolin and violin. He lived with his family in a trailer park, where his practicing was frequently overheard, to the delight of most of his neighbors, in particular one Mr. Wesley Elmore. A fine musician himself and a luthier, Elmore built this double-neck masterpiece, dubbed the Whatchamacallit, and presented it to Jimmy as a gift.
Sadly, the guitar was stolen from the band's VW bus after the Ted Mack appearance.
Fifty years later, the guitar's new owner, unaware of its history, tracked Jimmy down after seeing the faded outline of his name on the handmade case, hoping he could answer questions about the guitar's background.
Jimmy told the guy he'd get back to him, contacted the authorities in the new owner's city and soon after was reunited with the guitar.
And it's still in perfect condition!
Weirdo Factor
Featuring a six-string guitar and four-string mandolin – no doubled strings! – the guitar features wonderful inlays on a poker-card theme, scrolls and artisanal woodwork.
The fingerboards have dice inlays, and the pickups, pickguards and tailpiece are adorned with tortoise shell and cream-colored plastic strips.
The body and necks are made from 16 pieces of one-inch-wide alternating strips of maple and mahogany, and the bridges are carved from solid ebony.
Playability & Sound
I was pleasantly surprised at how well this beauty plays. The guitar has a 25 1/2-inch scale, like a Strat, but the 19-fret neck plays more like a Gibson.
The action is low, and the frets are smooth and polished. It plays like it had just been set up, but Jimmy assures me this is how it always was. Good thing too, because there are no truss rods in this build.
The guitar's pickups are the fabled 1954 P-90s, and they're full-bodied, but with a nice high-end presence. The neck position is the jazzier of the two, but the middle position is cool in an almost out-of-phase kind of way. The P-90s not only sound awesome clean but rock with overdrive and/or distortion.
The mandolin's DeArmond pickup sounds chimey and present, and I hardly missed the absent double strings.
The guitar and mandolin have separate tone and volume controls, and a push-button on the mando lets you engage its pickup without disengaging the guitar.
Value
As far as we know, Elmore made between three and five of these, two of which he and his wife played in their duo.
It's anybody's guess what this might be worth.
To Jimmy, it's priceless.
Why It Rules
It rules on another level, which is happiness. Regaining ownership of it after 50 years thinking it was gone forever, made Jimmy even happier than the day it was presented to him.
This one rules because it still plays, looks, and sounds terrific.
Thanks to Jimmy and Georgine Luttrell for letting me borrow this heirloom and tell its story. I've had the pleasure of recording/producing some 15 albums with Jimmy. Please look him up online.
Got a whack job? Feel free to get in touch with me at rtcarleton@gmail.com. Who knows? Maybe I'll write about it.
All the latest guitar news, interviews, lessons, reviews, deals and more, direct to your inbox!