"'Any Means Necessary' Is My Philosophy": Forget Analog Versus Digital – Steve Vai Had the Final Word in 1990
How the shred master made the best of both worlds on his breakthrough sophomore album, 'Passion and Warfare'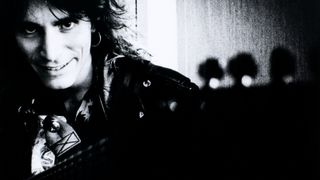 (Image credit: Niels van Iperen/Getty Images)
In 1990, Steve Vai released his second solo album, Passion and Warfare. Decades later, this monumental shred record remains a touchstone of the genre, not just for Vai's virtuosic yet melodic guitar playing, but also for its innovative production.
Although Vai began to prepare the album in the early 1980s it wasn't until he parted ways with singer David Lee Roth at end of the decade when he was able to fully concentrate on the recording.
By this stage, the guitarist had built his 1,600-square-foot Mothership studio and had accumulated a wealth of experience and equipment that he was finally able to put to great use.
Of particular note is the Eventide H3000 Ultra-Harmonizer, which can be heard throughout Passion and Warfare.
In the following interview extract from the March 2020 issue of Guitar Player, Vai details his involvement in the evolution of this legendary digital effects unit and explains why he thinks "P&W is my best-sounding record."
Many of the sounds on Passion and Warfare, and, indeed, on many of your works, are quite unique and a product of equipment that is largely designed by you. Do you hear the sounds first and then find a way to actually produce them, or do you discover them by tinkering with the equipment?
Both. When you're in the creative trajectory, you use any means necessary, with anything that comes across your radar.
The '80s were a great time for the evolution of digital technology in the music world. I was working with Eventide, and they had created the first Harmonizer, but it was just one extra voice.
They wanted to make a new Harmonizer and they asked me if I had any ideas. I explained to them that they should create diatonic pitch shift. They didn't understand at first. I explained that their device just tracked parallel motion, and I said it would be outstanding if you could pick any key and have the notes follow the key.
And then why only one note? Why not nine? And then why not be able to affect each voice that's contained in the harmony?
I was fortunate that Eventide jumped all over the idea and they created that first smart-pitch Harmonizer.
So I used stuff like that for unique sounds at the time. Samplers were starting to become popular as well. When I think about it now, I can't believe how archaic it all seems.
"Any means necessary" is my philosophy. I think P&W is my best-sounding record, and I put that down to everything being analog, as it was the peak of the analog movement. The console that I used and the components of the console were just perfect for the sound I wanted.
There was extra legwork in the way we recorded back then, but there was a payoff.
All the latest guitar news, interviews, lessons, reviews, deals and more, direct to your inbox!
Mark is a freelance writer with particular expertise in the fields of '70s glam, punk, rockabilly and classic '50s rock and roll. He sings and plays guitar in his own musical project, Star Studded Sham, which has been described as sounding like the hits of T. Rex and Slade as played by Johnny Thunders. He had several indie hits with his band, Private Sector and has worked with a host of UK punk luminaries. Mark also presents themed radio shows for Generating Steam Heat. He has just completed his first novel, The Bulletproof Truth, and is currently working on the sequel.