Five of Joe Satriani's Coolest Vintage Guitars
The man with the futuristic Ibanez guitars also owns a nice collection of vintage axes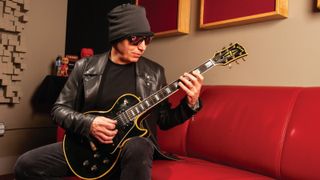 (Image credit: Paul Haggard)
Think of Joe Satriani's guitars and probably the first thing that comes to mind are his signature Ibanez JS models. With their aerodynamic rounded-edge shape, built-for-speed neck, high-powered pickups and eye-popping finishes, they are about as modern a design as any.
But that doesn't mean Joe doesn't appreciate or have plenty of use for a solid vintage instrument. In fact, he has a whole collection of them at his beck and call.
A few years ago, he was only too happy to open his vintage vault for Guitar Player and give us a little peek inside. And it's a good thing he did, because some of these drool-worthy models might not be around for long. "I've been aggressively shedding vintage guitars for the last 10 years or so," Satch tells us. "I used to have about 30 or 40, and I like to use them alongside my Ibanezes to round out the tones on the albums. But lately I've been trading and trading, and selling and selling, because there's a lot I have that other people would probably love to play too."
He laughs. "So I don't know, maybe you should be talking to Neal Schon or Joe Bonamassa about this."
Below, Joe shares with us the stories behind five of the finest vintage pieces in his unique collection.
1969 Gibson Les Paul Custom
"I had this dream of finding that perfect Les Paul Custom for a long time, and it has always eluded me. But I picked this one up and my hand just fell in love with the neck. And it has that weird Les Paul Custom sound. I don't know why they sound so unique, but they just don't sound like regular Les Pauls.
"We did something crazy with it – we took out the original pickups, put them safely in a box, and then I had [longtime guitar tech] Gary Brawer put a [DiMarzio] Fred in the neck and a [DiMarzio] Satchur8 in the bridge, and we did the full Jimmy Page wiring. The guitar sounds amazing. I wound up using it on [Shapeshifting] on 'Falling Stars' and 'Here the Blue River.'"
1966 Fender Electric XII
"Years ago, I was always saying, 'I've gotta get that electric 12 that I've been looking for.' I had a Rickenbacker at the time, and it was just killing me. You couldn't play the thing – you had to keep stopping to retune.
"So my friend Mike found me this Fender, and I remember him telling me, 'Hey, this is what Jimmy Page actually used on "Stairway to Heaven."' That's a terrible thing to tell someone who's buying a guitar, because it clouds judgement, right? [laughs] But this turned out to be a guitar I've used a lot.
"Sometimes I'd put it on the left channel and the Rickenbacker on the right, and together they make a beautiful sound."
1958 Fender Esquire
"This one's my favorite. I'll never get rid of this guitar. Chris Kelly, who used to work at Ibanez, found it for me back in '92, I think. He called me one day and said, 'I found this Esquire. You have to have it!' And I purchased it over the phone. This is before there was Reverb and eBay and stuff like that. [laughs]
"It wound up on The Extremist album right away, and over the years it's been on just about every album. I've used it clean, dirty, with slide, for power chords… It's a beautiful guitar. And again, it was like the neck was personally made for me. I don't know how they did that back in 1958!"
1948 Martin 000-21
"I was looking for a groovy acoustic. I had borrowed a '64 Gibson Hummingbird, but I wanted something a bit more delicate for fingerpicking. So I walked into Real Guitars in San Francisco one day and there was this beat-to-hell 000-21.
"It was the antithesis of the beautiful 000-28 Eric Clapton had just showed up with on Unplugged. But this guitar wound up on so many records. It's on 'Starry Night' [from 2002's Strange Beautiful Music] and 'Love Thing' [from Crystal Planet]. It's a beautiful-sounding guitar, and super light. I mean, the thing is like paper now – old and dry, and very expressive."
1964 Fender Precision Bass
"I bought this at Guitar Center in San Francisco right before I started working on [1989's] Flying in a Blue Dream. And this is the bass I used on the record. It wasn't very expensive. I think it was about a thousand bucks at the time – which probably was more than I should have paid, especially if you see the back of it. Someone tried to wipe the finish off and gave up halfway through, so it looks real bad. [laughs]
"But I just wanted a 'player' instrument. And this P-Bass has been on so many of my albums over the years. Even bassists that I've invited to play on records have wound up using it for at least one song. And that's because it does 'the thing' – that great mid-'60s P-Bass thing that we all love."
All the latest guitar news, interviews, lessons, reviews, deals and more, direct to your inbox!
Rich is the co-author of the best-selling Nöthin' But a Good Time: The Uncensored History of the '80s Hard Rock Explosion. He is also a recording and performing musician, and a former editor of Guitar World magazine and executive editor of Guitar Aficionado magazine. He has authored several additional books, among them Kurt Cobain: Montage of Heck, the companion to the documentary of the same name.