How Prince's "Purple Rain" Mesa/Boogie Mark IIC+ Turned Up in a Minneapolis Music Store
Tracing the history of a very special amp.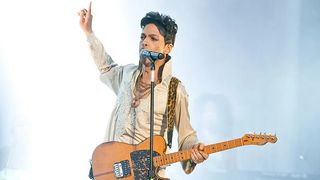 (Image credit: Neil Lupin/Getty Images)
The following is an archival Guitar Player piece.
"I was looking for a Mesa Mark III because I wanted that early Boogie tone, but I never figured I would find a IIC+, much less be able to afford the prices they fetch," says Ross Davison, owner of the Mesa/Boogie Mark IIC+ amp featured here.
"I went looking around the Twin Cities music stores without much luck until I stopped in at Encore Music in Minneapolis. I knew the owner had some vintage stuff, and after looking around for a while, I spotted this amp under some other heads.
"I asked the owner about it, and he said it had been in his shop for a long time, but he couldn't remember where it came from. He said it was a Coliseum model and wanted $1,799 for it.
"That night, I started doing some research on it, and the more research I did, the more the mystery deepened. I just couldn't figure out what this thing was. About a month later, I decided to go look at it again, and, once I played it, I knew I had to have it. The deal was sealed when the owner said, 'Give me $1,200, and get it out of my shop. I'm tired of looking at it.'
"I took it directly to Capitol Guitars – the local Mesa dealer in St. Paul – and they did their best to figure out what it was, but to no avail. The only other option left was the Internet. I was going to post some images of the chassis and circuit board, and it was then that I spotted 'Prince 2' written in Sharpie under the power-tube retainer clips.
"I posted the photos on the Mesa forum, and everything took off from there. I was able to confirm that it indeed was one of the IIC+ heads used by Prince."
Davison sent the amp to Mesa for servicing, where it landed on the bench of Mike Bendinelli, the same Mesa engineer who had his hands on it back in 1984.
"There were three of these 300 series amps," says Bendinelli. "The original two were Mark IIBs, and this is one of them. They're all dated 1981, and Prince had them by the time he did the 1999 tour. In 1984, when Prince started the Purple Rain tour, I got a call from his guitar tech, JD.
"The band was rehearsing in the St. Paul Civic Auditorium, and JD said, 'We've got the same two Mark IIB heads that we've been using, but something isn't working right with them. There's no power or headroom and Prince isn't happy.'
"For a couple of days, I went back and forth with JD, and, finally, I just sent out a new 300 series IIC+ head for them to try out. But when they got it, they plugged it into the same setup – including the footswitch cable – which was hooked up to a footswitch for a Mark IIB.
"Now, when you plug a Mark IIB footswitch into the Lead/Rhythm jack on a IIC+, it turns the lead mode on about halfway, so there's still no clean sound – which was what Prince wanted, because he mainly got his lead tones from pedals.
"JD called me back a couple of days later and said, 'It's still not working, and I'm guitar tech number six. If I don't get this stuff working in the next couple of days, they'll be on guitar tech number seven.'
"So I flew back there, and within a couple of minutes, I saw they had two brand new Bag End speaker cabinets with JBLs, and they were wired the stock way in parallel for 4Ω. They were plugging these two 4Ω boxes into the amp, which meant they had a 2Ω load on it.
"The amp was only putting out 100 watts, and it was all hard and packed down. That was the main problem. The reason they didn't have a problem before is because Don Batts – who had been Prince's guitar tech for the 1999 tour – had rewired the speaker cabinets in series, so you had two of them running in series-parallel for an 8Ω load, and it all worked great. They had 180 watts of clean headroom, and it was a big, loud sound onstage.
"We rewired the new cabinets, fixed the footswitch problem, they went through a rehearsal, and everybody breathed a sign of relief when Prince played a 15-minute solo on 'Purple Rain.'
"You should have seen the smiles on the crew! Prince liked the C+ better, because it had a lot more punch and headroom in the preamp. I carried one of the 300 series Mark IIBs home with me, updated it to a C+, and sent it back. So Prince ended up with three C+ heads – one original and two converted.
"When I took this amp out of the cabinet and put it on the bench I went, 'Oh, there's an LED drilled into the front panel. I remember doing that.' They insisted on having a light on the front to tell them what mode the amp was in. I thought that was funny, because if you can't hear the difference what help is a light going to be?
"I'm recalling that Prince didn't use the Lead mode anyway, but his setup back then was definitely a 300 series head with two Bag End sealed-back cabinets loaded with JBLs. It was quite a sound!"
All the latest guitar news, interviews, lessons, reviews, deals and more, direct to your inbox!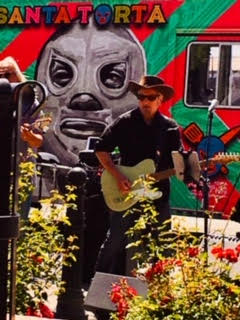 Art Thompson is Senior Editor of Guitar Player magazine. He has authored stories with numerous guitar greats including B.B. King, Prince and Scotty Moore and interviewed gear innovators such as Paul Reed Smith, Randall Smith and Gary Kramer. He also wrote the first book on vintage effects pedals, Stompbox. Art's busy performance schedule with three stylistically diverse groups provides ample opportunity to test-drive new guitars, amps and effects, many of which are featured in the pages of GP.