Les Paul Said He Gave Gibson All of His Secrets for This Guitar, but Why Didn't It Sell?!
An under-the-radar vintage gem, here's why Les Paul's favorite signature model suffered a similar fate to the now uber-collectible 'Burst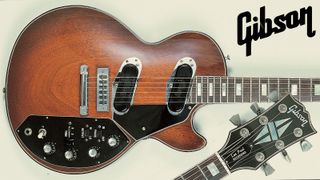 (Image credit: Nigel Osbourne/Redferns)
When it comes to guitars of the Les Paul variety, the Recording model is often far from the top of people's list. But for Les Paul himself, it remained a go-to instrument until his passing.
Along with a pair of his long-favored low-impedance stacked humbucker pickups, it boasts a version of his trade-secret custom electronics – the details of which remained a troubling mystery to Gibson until the late '60s when, thinking he might retire from performing, Les finally revealed all.
"I gave Gibson all my secrets, which elated them to no end," explains the pioneering guitarist in his book Les Paul in His Own Words, "and out came the Les Paul Recording guitar."
Subsequently, in 1969, the company introduced two solidbody electric models to the recently resurrected single-cut Les Paul line (in addition to the $575 Custom and $425 Deluxe) based largely on Les's personal collection of professionally customized instruments: the aptly named Les Paul Personal and Les Paul Professional (priced $645 and $485 respectively).
Initial sales of the top-of-the-range Personal and the mid-priced Professional proved relatively limited and both models were quickly superseded by the far more numerous and perhaps better known Les Paul Recording in 1971 (pictured above).
Although all three early models feature wide three-piece mahogany/maple strip/mahogany 'sandwich' bodies, three-piece mahogany necks, similar controls and low-impedance pickups, the Recording can easily be distinguished by its front-body routing and small block inlays (with the Personal and Professional respectively sporting large block and trapezoid inlays).
In terms of appointments, it is something of a hybrid of its predecessors and, as such, was priced roughly midway between the two. Sales soon lifted following its release and the Recording peaked in popularity during 1973, with 1,759 guitars being shipped that year.
Nevertheless, while Les persisted with the guitar's infinite array of exemplary clean tones gleaned from its adjustable low-impedance pickups and expansive controls, during the classic rock era of the 1970s, many players increasingly tended towards the crunchier, overdriven sounds associated with Gibson's more established high-impedance pickups.
Consequently, the Recording's sales steadily declined over the years and it was eventually discontinued at the end of the decade.
As Les put it: "The Les Paul Recording guitar didn't sell because the kids were into overdriving the input to get distortion, and to get the pleasant distortion they wished to hear, the pickup has to brutally hit the first stage of the amplifier."
In addition to a three-way pickup selector switch, the Les Paul Recording/Personal/ Professional features master volume, bass and treble attenuation pots/knobs, while a two-way phase switch may be engaged (in/out) with both pickups selected. Further tone shaping is achieved via the 11-way 'decade' rotary switch/knob, which, in a similar vain to a Gibson's Varitone capacitor array, filters the sound in discrete shifts across the frequency spectrum from high to low (through positions 0 to 10). These possibilities are supplemented by the three-way 'tone selector' switch, which can be used to instantly deactivate the treble and bass controls and provide alternative pickup selection options.
Whereas the earlier Personal and Professional models required an external low-impedance transformer cord to be used in conjunction with regular high impedance amplifier inputs (as opposed to the low-impedance inputs found on mixing desks and certain amps such as the Gibson LP-1 and LP-12), the Recording featured an onboard two-way low-/high-impedance switch that was later, in 1976, replaced with dual side-mounted high-/low-impedance outputs.
At the same time, the control plate layout changed, and the pickup selector switch moved to the upper bass bout (as per the original Personal and Professional guitars), while three-piece maple necks and maple bodies became commonplace.
In 2013, Gibson revisited the idea by released a limited run of 600 Gibson Les Paul Recording II guitars.
All the latest guitar news, interviews, lessons, reviews, deals and more, direct to your inbox!
Rod Brakes is a music journalist with an expertise in guitars. Having spent many years at the coalface as a guitar dealer and tech, Rod's more recent work as a writer covering artists, industry pros and gear includes contributions for leading publications and websites such as Guitarist, Total Guitar, Guitar World, Guitar Player and MusicRadar in addition to specialist music books, blogs and social media. He is also a lifelong musician.