Frank Brothers Guitar Company Puts a Fresh Spin on Retro Guitar Design With its Arcade Doublecut Electric
The Frank Brothers' Arcade model puts its thoughtful features in the service of the player.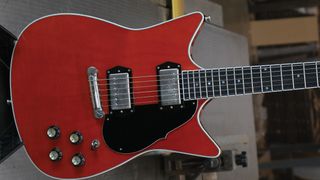 (Image credit: Future)
It's hard to create an electric guitar design that pays tribute to past classics while looking fresh and original. Yet, that's what Frank Brothers Guitar Company of Toronto, Canada, has achieved with the Arcade, and it's earned raves.
The company was founded in 2014 by luthiers Nick and Tim Frank and their managerial partner (and older brother) Jon. They are the third generation of Franks to work in music making and engineering, following grandfather Philip, first violinist with the NBC Symphony Orchestra, and father Jim, an award-winning recording engineer who worked with Peter Gabriel, Alice Cooper and the Guess Who.
But their real motivation comes from a desire to bring their customers' ideas to life. "The rarity of our guitars is part of the excitement," Tim tells us. "Often, people who order a Frank Brothers guitar haven't had an opportunity to see one in person, so it's crucial that it really blows them away. Building each guitar one at a time and giving it all our attention allows us to do that." That's certainly true of the review sample we were sent.
"This particular Arcade features a compensated wrap bridge and a pair of humbuckers, which makes it sound big and direct, with a lot of guts and sustain," Tim says. "So it's great for your rock and blues players, but really it's a super-versatile guitar."
The Arcade is the youngster of the Frank Brothers' stable, which debuted with the larger, chamber-bodied Signature model. More compact, and solid-bodied, the Arcade retains the Frank flagship's dual-horned shape, a sort of "SG meets compact ES-335" design.
Several body and neck wood options are available. This one is made with a solid mahogany back and solid Canadian maple top, with three-ply binding around the top and a thin nitro finish in translucent cherry, which has been gently aged to display some checking in the lacquer.
It's also light for a solid mahogany/maple design, coming in around 7.4 pounds. Taken in hand, it reveals further nuances, such as the arched top and back, which puts the body's core in line with the neck.
"This way the core has substantial mass and provides great resonance, while the edge of the body is slim, making the guitar really comfortable to hold." Tim explains. "There's also a slight taper along the sides – the body is actually thicker near the tail and slims down toward the neck joint, similar to an acoustic guitar, which improves the look and feel of the neck angle."
The glued-in mahogany neck has a bound Macassar ebony fingerboard with a 25-inch scale length. The 22 medium frets have been beautifully dressed, with smoothly rounded crowns and delightfully snag-free ends.
The medium-C neck profile (0.86 inches deep at the first fret and 0.94 inches at the 12th) sits easily in the hand, and playability is aided by the Franks' extra efforts in neck and truss-rod design.
"We use a vintage-style curved, single-action stainless-steel truss rod," Tim explains. "We build a precise amount of relief into the neck so that we always have a well-tensioned rod that can be backed off to increase the relief while still being in tension, which also stiffens the neck and increases the overall sustain."
The closer you look, the more this build reveals the Brothers' custom touches. A vintage-style diamond volute at the rear of the back-angled headstock supports the transition from the neck and is unobtrusive to the left hand.
The unique "pinched-waist" headstock is faced with a book-matched Macassar ebony overlay, elegantly bound, capped with an unfinished ebony truss-rod cover and adorned with a mother-of-pearl Frank Brothers logo inlay.
Down at the other end, a clear Plexiglas control cover reveals the immaculate wiring of the CTS pots with Jupiter tone capacitors. The wraparound bridge – an out-of-house addition alongside the aged Kluson Deluxe tuners – is MojoAxe's acclaimed compensated unit, beloved for its ability to work miracles with wrap-tail intonation as well as enhance tone and sustain.
A range of pickup options are available, and this Arcade carries a pair of Lollar Imperial Low-Wind humbuckers with independent volume and tone controls and a three-way toggle.
Unplugged, the Arcade is lively, balanced and responsive, with surprising elements of acoustic woody resonance and compression when strummed with some attitude. It also plays superbly in all positions, without a hitch in the faultless setup.
The guitar's pointy, subtly asymmetrical double-horned shape becomes more familiar, and even natural, the more you play it. It sits much as a Telecaster would, placing the player's left and right arms in natural and comfortable positions, and without digging into the ribs and forearm like other square-edged guitars.
Tested through a tweed Deluxe-style 1x12 combo and a Friedman Small Box head and 2x12 cab, the Arcade proved instantly loveable and impressively versatile.
To ballpark the guitar's overall voice, I'd return to the SG-meets-335 analogy: There's plenty of clarity and snap amid the humbucker-induced thickness, with a good balance, overall, but a little extra edge in the upper-mids, and a blend of biting attack and semihollow-like airiness that lends depth to the platform.
That said, set your amp or pedals right and the Arcade will sub for just about anything you'd normally take a Les Paul out for, while elegantly imprinting its own personality over it. With either amp set relatively clean, the low-wind humbuckers allowed plenty of crisp articulation, yet with rich underpinnings of warmth and breadth and a delectable harmonic shimmer imparted by the guitar as a whole.
As such, the Arcade will tackle anything from rootsy twang on the bridge pickup to trenchant jazz on the neck, while eating up a range of indie-rock jangle and arpeggio riffs on all settings.
Into the Friedman's modded-Marshall lead channel, however, or with a JHS Angry Charlie or Tsakalis Six overdrive into the 5E3-style combo, the Arcade dished out throaty power-chord rhythms or wailing, toothsome leads like it was born to rock.
And while it ain't "cheap" as such, this Arcade's $4,000 price tag – including significant upgrades – delivers a guitar that is overtly lovable and of a caliber for which many makers would charge a lot more.
All the latest guitar news, interviews, lessons, reviews, deals and more, direct to your inbox!
Dave Hunter is a writer and consulting editor for Guitar Player magazine. His prolific output as author includes Fender 75 Years, The Guitar Amp Handbook, The British Amp Invasion, Ultimate Star Guitars, Guitar Effects Pedals, The Guitar Pickup Handbook, The Fender Telecaster and several other titles. Hunter is a former editor of The Guitar Magazine (UK), and a contributor to Vintage Guitar, Premier Guitar, The Connoisseur and other publications. A contributing essayist to the United States Library of Congress National Recording Preservation Board's Permanent Archive, he lives in Kittery, ME, with his wife and their two children and fronts the bands A Different Engine and The Stereo Field.