Elvis and Zappa Played a Hagström… But Have You Ever Seen One of These?
The Hagström 1 is a rare guitar with an equally rare construction.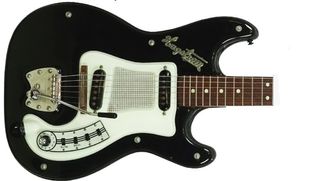 (Image credit: May Yam)
Maybe you saw this electric guitar in music stores and walked right past it. Or perhaps you tried it out, found it wasn't set up properly and moved on, never giving it a second thought. It's so easy to blow off a guitar that appears to be made out of plastic. Like, how good could it be? It's made out of plastic!
But while some players ignore such guitars others run toward them. To be clear, this guitar, known simply as the Hagstrom 1, is made of wood, but the front and back of the two-piece body are wrapped in molded plastic and attached together with six screws.
This is obviously a low-cost way to make a cool-looking guitar without resorting to expensive carved tops, exotic woodwork, binding, inlays and so on. (Hagstrom actually made a guitar just like that: the Hagstrom 2.) Instead, the company put all of its engineering know-how into the Hagstrom 1's sound and playability. As a bonus, the molded plastic pieces make the guitar resilient to wear and tear.
Let's take a look and see what the Swedes were up to back in '65…
Weirdo Factor
The Stratocaster body shape certainly isn't unusual, but the groovy, shiny plastic work remains eye-catching as ever. Some people were bewildered by the bumpy plastic area between the pickups, as they tended to drag their knuckles on it, but this "cheese grater," as some call it, isn't a problem for everybody.
Playability & Sound
What really stands out is how nicely the 22-fret maple neck with Indian rosewood fretboard plays. It's super slender, almost Rickenbacker-like, and amazingly fast. The single-coil pickups are loud and present, with a clean tone that sounds like a cross between Fender and Gretsch pickups. In fact, they're perfect for bright, staccato playing, making them ideal for funk guitar work. With distortion, they proved excellent for heavy rock, delivering a musical scooped midrange.
Controls include an on/off switch for each pickup, an EQ bypass switch that rolls off the high end when engaged, and a mute switch that knocks the volume down four or five dB. Lastly, there is one global master volume knob. The switches, which work fine thanks to Dave Stein at the Starving Musician in Santa Clara, California, are a little difficult to reach when playing and even harder to use quickly, at least when compared to the selectors found on guitars like the Les Paul and Telecaster.
The trem system offers a lot of resistance, but it does come back to pitch. The truss rod is easily accessible at the neck heel, and the floating bridge is height adjustable courtesy of two screws accessible through the back of the guitar. Clever! The intonation from the floating wooden bridge is okay, but if one had to gig with this guitar it may be wise to install a Tune-o-matic-style replacement.
Oddly, the output jack, located at the bottom of the pickguard, isn't recessed into the body. It sits above the pickguard, surrounded by molded plastic. Set the guitar down without unplugging it and the cable gets pushed into the guitar, placing upward stress on the jack, which is held in place only by the molded (and, due to age, somewhat brittle) pickguard.
Value
In the pre-internet days, this guitar could be bought for $300. Today, the Hagstrom 1 still sells at auction for well under $1,000.
Why it Rules
The Hagstrom 1 scores a hat trick: It plays great, sounds awesome and is relatively affordable. Though weird to look at, it has a joie de vivre rarely found in traditional finished-wood guitars.
All the latest guitar news, interviews, lessons, reviews, deals and more, direct to your inbox!