Echopark Clarence 25 Review
If you can live without channel switching, reverb or an effects loop, you'll likely dig what this stripped-down little hot-rod has to offer.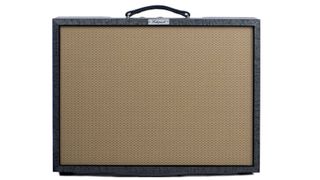 (Image credit: Echopark)
Echopark Instruments founder Gabriel Currie states that the Clarence 25 is the result of "designing and building amplifiers for some of the world's most toneful players around," a list that includes Joe Perry, Troy Van Leeuwen, Jackson Browne and numerous others.
Simplicity was a big part of the calculus in developing the Clarence 25, and Currie and crew have developed an amp that celebrates minimalism, offering just volume and tone controls, a pair of inputs and two 6V6 power tubes driving a single 12-inch WGS speaker with no doping on the surround, to give it a "broken-in" response right off the bat.
Tucked into a birch-ply cabinet that's an inch wider than that of a Fender Deluxe Reverb, the welded-aluminum chassis is exposed by removing 10 screws that secure the mostly open-back cover.
Inside we find a tidy hand-wired circuit populated with high-quality components on glass-epoxy board, with a small tag strip for the power-supply circuit. For ruggedness and ease of servicing, the pots, jacks, switches and tube sockets are mounted directly to the chassis. Cosmetics are hip, too, with a silver Plexi control panel, large vintage-style knobs and textured "Trout" covering with piping and a tan woven grille.
The cabinet's beveled front edges are a nice touch, and the amp sits on thick rubber feet. A hefty stitched-leather handle also makes it a little easier to carry the 39-pound combo. I wish the attached power cable was a little longer, but that's a minor thing.
Running the Clarence 25 through its paces using a Gibson Historic '59 Les Paul, a Music Man Mariposa and a Reverend Greg Koch Signature Gristlemaster, the amp delivered a crisp, sparkling tone at lower settings on input one and went easily into meaty-sounding grind as the volume inched up past three.
The circuit is very responsive to changes in guitar volume, so even when pushing a crunch-laden tone with the amp volume at halfway or higher, it was easy to drop back to a cleaner rhythm sound with a twist of the knob. At this point the power tubes are adding considerably to the distortion, and things just keep getting more saturated until the amp volume is pegged.
The Clarence 25 is a great amp for pedals when working the lower-to-middle range of the volume envelope, and the second input lowers the gain considerably to provide a cleaner platform, which can be cool if you're relying mainly on distortion boxes for different levels of grind and don't need all the gain potential that's available from this amp.
Either way, the two 6V6s running in cathode bias deliver plenty of volume for stage use. It's like a Fender Deluxe in that regard, although the Clarence definitely has the upper hand when it comes to an old-school Marshall personality.
Part of that is due to the solid-state rectifier, which helps keep the response tight at higher volumes. And because the Clarence is cathode biased, you can easily swap in 6L6 tubes for more volume and headroom. Echopark recommends the 2x10 option with 75-watt ET-10 speakers for extended bottom and greater headroom if the amp is to be mainly used with pedals.
The company also points out that the transformers can handle 50 percent mismatched loads, so no worries if you want to connect the extension-speaker jack to a four-, eight- or 16-ohm cab.
I like that the Clarence 25 has an aggressive British side but can also cover some of the same ground that, say, a brownface Deluxe would. It's very touch responsive, and its extended gain range makes it a great choice for anyone who wants to get it all from the amp and not necessarily have to use a pedal for solos.
Bottom line: If you can live without channel switching, reverb or an effects loop, you'll likely dig what this stripped-down little hot-rod has to offer.
Specifications
CONTACT echoparkinstruments.com
PRICE $1,999 street
CHANNELS One, with two inputs
CONTROLS Volume, tone
TUBES Two Tung-Sol 12AX7s, two JJ 6V6s in cathode bias
POWER 25 Watts
EXTRAS Main and extension-speaker outs
SPEAKER One 8Ω WGS 12" custom-spec "Pulsonic" replica; 2x10 option also available
WEIGHT 39 lbs
BUILT USA
KUDOS Cool range of tones. Simple design. Good build quality
CONCERNS None
All the latest guitar news, interviews, lessons, reviews, deals and more, direct to your inbox!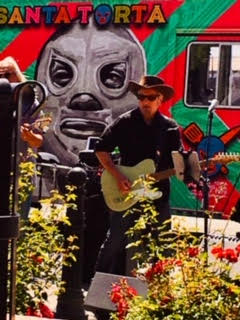 Art Thompson is Senior Editor of Guitar Player magazine. He has authored stories with numerous guitar greats including B.B. King, Prince and Scotty Moore and interviewed gear innovators such as Paul Reed Smith, Randall Smith and Gary Kramer. He also wrote the first book on vintage effects pedals, Stompbox. Art's busy performance schedule with three stylistically diverse groups provides ample opportunity to test-drive new guitars, amps and effects, many of which are featured in the pages of GP.