Classic Gear: Klemt Echolette S NG51
The little-known Klemt Echolette S NG51 tape echo makes a worthy comeback on the vintage market.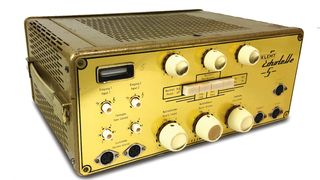 (Image credit: Soundgas.com)
Many tape echo–loving guitarists in America divide themselves between the Maestro Echoplex and Roland Space Echo, while others express affection for esoteric units like the Watkins/WEM Copicat, Binson Echorec, or Meazzi Echomatic.
But guitarists who have experienced yet another alternative will tell you the best tape-echo effect box on the planet was neither American, Japanese, British nor Italian, but German. The Klemt Echolette S NG51 might be obscure to many players, but that's no reflection of its quality. Fire up one that's in good condition and you'll have some mighty powerful tone enhancement coming your way.
The product has its origins with Radio Klempt, a company founded in Olching, near Munich, by Arthur Klemt in the 1930s, to provide sales, repair, and maintenance of radios and, later, television sets. In the mid 1950s, an orchestra musician named Hans Bauer began producing vocal and instrument amplifiers for Klemt, and in 1959 he established Echolette as the products' trademark.
The line expanded to include tape-echo units when the surf and instrumental music booms hit in the early 1960s and continued to grow in the 1960s to include guitars, loudspeakers, reverb units, and microphones, which were made by AKG and Sennheiser but rebadged "Echolette by Bauer." Dynacord bought Echolette in 1969 and in 1981 began producing devices under its own name.
Known as the "golden box," the Echolette S NG51 works much like other popular tape echoes of the era, though it's an original interpretation of the device, rather than a direct copy of any one rival.
As on competing units, echo is enabled by a continuous loop of recording tape that cycles around a record head, erase head, and three playback heads to produce delays of varying lengths, which can be further adjusted for length, repeats, and intensity using the several front-panel controls. (Incidentally, don't be fooled by the word reverb on the front panel. It's just a reference to the echo effect.)
Thanks to the circuit's originality, the Echolette's version of echo is rich, thick, warm, and timed to delay lengths that in many cases are just slightly different than those offered by other classic tape-echo units.
Which is to say, echo fanatics who already own an Echoplex or a Echomatic might still dig what they get from an Echolette. But what sends lovers of the Echolette S NG51 swooning is the sound of the echoes themselves.
These things have tremendously good-sounding tube preamps, which can be used in the signal chain even when the echo is switched off. The circuit employs four ECC83s and a single ECC82 (the European designations for 12AX7 and 12AU7 preamp tubes, respectively), and much of what they do remains in-circuit at all times.
As such, this preamp can add everything from juicy, warming tube tone at lower levels to a major slathering of saturated harmonic overtone enrichment when cranked up higher, all of which can provide the secret sauce to an enticing and attention-grabbing guitar tone.
The Beatles, who launched their career on several residencies playing in Hamburg, Germany, were photographed using an Echolette S NG51 onstage and in the studio in the early years, and Jeff Beck likewise adopted this Teutonic delay.
An Echolette tape echo was also purportedly used by Chuck Berry, and the units developed a cult following in Australia after several surf bands there made use of the imported tape echoes.
If you're tempted to chase down one of these golden tone monsters, be aware that prices have been going up. What might have been just a few hundred bucks a few years ago has often risen to more than $1,000 today, and often the prices on the vintage market only somewhat randomly account for the unit's condition.
As always, it's worth seeking out a recently inspected and serviced example from a reputable dealer. Like its descendants, the Echolette S NG51 is a lot of electro-mechanical device crammed into a relatively small box.
While that makes it compact, it also requires some serious skill, knowledge, and experience when repair time comes. And despite the quality German engineering found within this beauty, that time certainly will come, as it does with any tape-echo unit.
Still, the deep, hypnotic sound of the echoes these things can generate, along with the euphonic glories of their preamps, makes both the chase and the maintenance worth the effort for many delay-loving guitarists.
All the latest guitar news, interviews, lessons, reviews, deals and more, direct to your inbox!
Dave Hunter is a writer and consulting editor for Guitar Player magazine. His prolific output as author includes Fender 75 Years, The Guitar Amp Handbook, The British Amp Invasion, Ultimate Star Guitars, Guitar Effects Pedals, The Guitar Pickup Handbook, The Fender Telecaster and several other titles. Hunter is a former editor of The Guitar Magazine (UK), and a contributor to Vintage Guitar, Premier Guitar, The Connoisseur and other publications. A contributing essayist to the United States Library of Congress National Recording Preservation Board's Permanent Archive, he lives in Kittery, ME, with his wife and their two children and fronts the bands A Different Engine and The Stereo Field.