Classic Gear: 1976 Travis Bean TB1000 Standard
Find out what made the Rolling Stones, Joe Perry, and Jerry Garcia all fans of Travis Bean's aluminum necks and rigid build.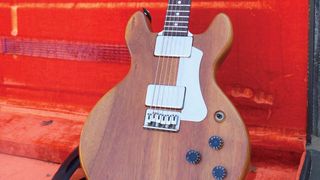 (Image credit: Ryan McEwan)
Compared to the industry's prolific output of the 1950s and '60s, the 1970s brought relatively few new classics in the guitar department.
Players came to view the market as divided among current-production guitars whose quality was often dubious or in decline, older models that made up the first semblance of a vintage market, and instruments created by a handful of forward-looking makers who believed electric guitar design had unfulfilled potential.
Among the latter were independents such as Alembic, Veleno, B.C. Rich, and Rick Turner, who were pioneering either the use of alternative woods and materials, more-versatile electronics, or both.
But of all the creative guitar makers of the mid-'70s, many players believed Travis Bean most worthy of future-classic status. Travis Bean guitars were the brainchild of former motocross racer and itinerant inventor Clifford Travis Bean, in partnership with guitar tech Marc McElwee, and – for the first few years – Gary Kramer.
Bean's premise is also the instrument's main constructional and visual calling card: a through-neck and central body core milled from T6061 aircraft aluminum. The design created one solid unit running from the tip of headstock to the back of the body beneath the bridge. Three narrow chambers running its length improved resonance and reduced weight, if ever so slightly.
Essential ingredients
• Through-neck machined from solid T6061 aircraft aluminum
• Solid koa body
• Through-body stringing with six-saddle bridge
• Dual Travis Bean Alnico humbucking pickups
• 25.5" scale length
• Four control knobs and three-way toggle switch
As the company declared in its 1977 print ads, seen in these pages and elsewhere, "We started out with a neck that wouldn't warp and wound up with the most significant development in the electric guitar since the 1930s."
And therein lay Bean's unique selling proposition: no more shifting of a wooden neck due to changing atmospheric conditions, and no more truss-rod adjustments, coupled with optimal sustain and a clear, articulate response. Developed in 1973 and '74, the design went into production in 1974 and was awarded a patent in October 1975.
The guitar featured here is a 1976 TB 1000 Standard bearing the serial number 421, as stamped on the front of the headstock beneath the large T-shaped cutout that serves as the guitar's prominent logo.
It's one of 1,422 TB 1000s produced between the company's inception and its demise in 1979. The Travis Bean line also featured the TB 1000 Artist with a carved top and block fingerboard inlays, the more affordable TB 500 with single-coil pickups, the TB 3000 Wedge (a wedge-shaped, semi-V-inspired model), and the TB 2000 and TB 4000 Wedge basses. All together, some 3,650 Travis Bean guitars and basses were produced during the original company's five-year existence.
While some were finished in black or white, most Travis Bean guitars, like this one, had bodies made from solid koa, a light- to dark-brown hardwood with grain and figuring that can vary from subtle to ornate.
The TB 1000 Standard, Artist, and Wedge models all had house-made Alnico humbucking pickups with "Travis Bean" engraved on their covers – the only outward indication of the guitar's manufacturer – with through-strung six-saddle bridges.
The combination of dense koa and the solid-aluminum neck and body core made these heavy guitars. Our featured example weighs in at 10 pounds 15 ounces. But the '70s was a heavy era, and Gibson Les Pauls of the period, Yamaha SG2000s, and others were known to top the 10-pound mark. For all the benefits that the aluminum neck offered, it was just one part of the team's design achievement.
As promotional copy from the time notes, "The rest was in the resulting lightweight neck and receiver system forming a rigid link between the tuning machines and the bridge. When the strings are attached, a complete vibration connection is achieved. It is this patented chassis that makes the Travis Bean guitar what it is: an instrument that has become the most dramatic breakthrough in electric guitar technology in 50 years."
Bright, clear, articulate, and powerful, Travis Bean guitars sounded great, and a significant number of major artists lined up behind them. Keith Richards, Ron Wood, and Bill Wyman all played them with the Rolling Stones in the mid '70s. Aerosmith's Joe Perry adopted a TB 1000, and Jerry Garcia played both a TB 1000 and a TB 500 for a time.
Alternative-rock guitarists of note who adopted the alloy-neck originals in later years include Steve Albini, Stephen Malkmus, Sonic Youth's Lee Ranaldo, and Stephen O'Malley of Sun O))). Gary Kramer left the company in 1975 and came out with his own line of aluminum-neck guitars.
By the 1980s, his Kramer Guitars would virtually define the pointy-headstock shred guitar and for a time was the world's biggest-selling guitar manufacturer thanks in part to its association with one Eddie Van Halen.
In 1997, Bean and his wife, Rita, began reissuing a modified version of his guitar designs, but their venture folded after some 20 or so prototypes were produced.
Travis passed away in 2011, and in the mid-2010s Rita and Kevin Burkett of Electric Guitar Company, with the consultation of original Travis Bean partner Marc McElwee, brought these reissues back into limited production.
They introduced the TB 500 Generation One tribute to Jerry Garcia at the 2017 winter NAMM Show, but, ultimately, the aluminum neck and core failed to convince enough players this was the way to the electric guitar's future. Even so, few guitarists will deny the veracity and appeal of Travis Bean's originals.
All the latest guitar news, interviews, lessons, reviews, deals and more, direct to your inbox!
Dave Hunter is a writer and consulting editor for Guitar Player magazine. His prolific output as author includes Fender 75 Years, The Guitar Amp Handbook, The British Amp Invasion, Ultimate Star Guitars, Guitar Effects Pedals, The Guitar Pickup Handbook, The Fender Telecaster and several other titles. Hunter is a former editor of The Guitar Magazine (UK), and a contributor to Vintage Guitar, Premier Guitar, The Connoisseur and other publications. A contributing essayist to the United States Library of Congress National Recording Preservation Board's Permanent Archive, he lives in Kittery, ME, with his wife and their two children and fronts the bands A Different Engine and The Stereo Field.