Cheaper than a vintage 808 but with so much of that old-school tube warmth, the Apex 808 is a high-quality stompbox for overdrive connoisseurs.
Pros
+

A super-toneful 808.

+

Cheaper than vintage counterparts.

+

Simple controls.

+

Excellent as an always-on tone enhancer.
Cons
-

None, though it is pricey.
You can trust Guitar Player. Our expert reviewers spend hours testing and comparing guitar products so you can choose the best for you. Find out more about how we test.
This latest iteration of the venerable TS-808 — originally made for Ibanez by Maxon — is designed by Susumu Tamura, the man who created the original Tube Screamer back in 1979.
The Apex 808 bears the name "Tamura" on its black control plate and is built like a tank, with a full-metal enclosure that has a removable hatch on the bottom for access to the included nine-volt battery. The three controls are labeled D, T and L, and there's an LED indicator and a jack on the front for external power.
Reportedly, the Apex 808 is the result of Tamura's analysis of more than 100 vintage and current-production OD- and TS-808 variants over a three-year period. What he discovered was that the best-sounding units had a certain brand and model of op-amp that came from a specific production period. Tamura located and acquired a New Old Stock supply of the ICs, and that's what's installed in the Apex.
I've been told that the units arrive from Japan with unmarked ICs, so the identity of the chip shall remain a well-kept secret. The 808s from Maxon that I've heard have consistently sounded good, so it's not surprising that the Apex 808 is a really good-sounding pedal.
Tested with a Reverend Gristlemaster, a Hamer Newport and a Gibson Historic Les Paul through a Fender Deluxe Reverb, the Apex sounded to me perhaps a little more cohesive and smooth in the midrange, with practically no top-end frazz. It's easy to get a buttery sound from this pedal, and the tone control is voiced very usefully.
The Apex belted out excellent tone whether played cleanly, with the drive kept on the low side and used more as a booster, or with the drive cranked halfway or higher, where you're getting a hefty dose of harmonically rich-sounding grind that's also very responsive to picking strength and guitar volume settings — in other words, organic, like a good tube amp.
As usual, it's a fine always-on pedal for putting meatiness on your tone, and it's also great for punching in with singing sustain for solos. Fed into a gained-up tube amp that's already sweating, the tones can be devastatingly cool. The Apex 808 is exceptionally quiet, too, even with the knobs on max.
If you appreciate the effort that the designer put into squeezing a little more tone out of this op-amp-fueled OD, you probably won't mind the $300 price tag one bit. It's certainly far less money than a vintage 808 goes for these days, and the Apex already packs the right stuff and is dialed-in for optimal vintage-style tone. Sounds like a win-win.
Specifications
PRICE: $300 street
TYPE: Overdrive
CONTROLS: Tone, Drive, Level
I/O: Input, output, 2.1mm jack for 9V adapter (not included)
BUILT: Japan
CONTACT: Maxon FX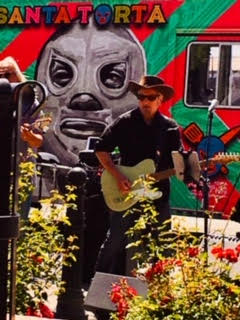 Art Thompson is Senior Editor of Guitar Player magazine. He has authored stories with numerous guitar greats including B.B. King, Prince and Scotty Moore and interviewed gear innovators such as Paul Reed Smith, Randall Smith and Gary Kramer. He also wrote the first book on vintage effects pedals, Stompbox. Art's busy performance schedule with three stylistically diverse groups provides ample opportunity to test-drive new guitars, amps and effects, many of which are featured in the pages of GP.