Watch King Gizzard & the Lizard Wizard's Kaleidoscopic "Head On/Pill" Live Performance
For lovers of the unconventional and unpredictable, this Australian band's music is endlessly rewarding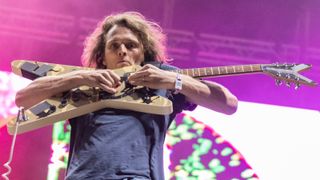 (Image credit: Jim Bennett/WireImage)
Australia's King Gizzard and the Lizard Wizard have an extensive back catalog that embraces everything from '70s stomping glam to thrash metal, surf music and jazz.
For many, however, the band is most readily identified as part of the ongoing revival of psychedelia and prog rock that has informed so many artists' work, whether openly acknowledged or not.
It wasn't until the band released their third album, 2013's Float Along – Fill Your Lungs, that they fully embraced the psych ethic.
"Head On/Pill," the 16-minute-long opening track, comes out of the gate with every trick in the playbook.
Electric sitar? Check.
Ambient, spaced-out grooves? Check.
Incoherent, vaguely meaningful lyrics? Check.
Five minutes in, it morphs into a Hawkwind-like "Silver Machine" boogie, with guitars and keyboards swirling in a hazy whirlwind of stoned delight.
Singer/guitarist Stu Mackenzie and fellow six-string comrades Joey Walker and Cook Craig are constantly looking for ways to expand the guitar's traditional role and break with the predictable song structures.
They took this approach beyond expectations with their 2017 experimental album, Flying Microtonal Banana, the first of five records the group released that year.
Mackenzie charged the band with modifying their instruments to be able to play the complex microtonal music referenced in that album's title, inspired by a guitar he'd acquired and similarly named.
Mackenzie has acknowledged that, with three guitarists in the band, the potential for overkill and chaos is always there.
That said, the division of labor is carefully thought out and, despite the number of players onboard, extended guitar solos are in surprisingly short supply in their music.
Mackenzie notes that none of the guitarists were strongly influenced by guitar-driven artists, and, consequently, King Gizzard's approach is primarily textural, probing at the possibilities to open up new sonic dimensions.
While the band's interest in an unconventional microtonal approach may be the logical end result of their quest for the road less traveled, it is actually informed by a love for great songs.
Strip back the elaborate thematic and rhythmic approaches that King Gizzard employ, and you'll find that at the heart of most of their work lies a strong sense of melody and composition.
Given their ongoing search for the unconventional, it's perhaps not surprising that the guitarists of King Gizzard prefer cheap '60s bargain-basement gear, though they also play instruments constructed for them by Australian luthier Zac Eccles.
In common with the forerunners of the genre, King Gizzard's psych leanings are very evident in their exploration of non-Western stringed instruments.
The use of the sitar is a given for so many acts reflecting their '60s influences, but King Gizzard go much further, utilizing such exotic instruments as the Persian setar and a Turkish baglama.
The moveable frets of both instruments were key to Mackenzie's microtonal flights of fantasy, although he was just as happy to butcher existing guitars to achieve the result that he heard for the band.
King Gizzard's ongoing desire to push back the boundaries puts them as firmly in the prog rock camp as the psych camp, but for lovers of the unconventional and unpredictable, the band's music is endlessly rewarding.
Browse King Gizzard & the Lizard Wizard's catalog here.
Visit the band's website here.
All the latest guitar news, interviews, lessons, reviews, deals and more, direct to your inbox!
Mark is a freelance writer with particular expertise in the fields of '70s glam, punk, rockabilly and classic '50s rock and roll. He sings and plays guitar in his own musical project, Star Studded Sham, which has been described as sounding like the hits of T. Rex and Slade as played by Johnny Thunders. He had several indie hits with his band, Private Sector and has worked with a host of UK punk luminaries. Mark also presents themed radio shows for Generating Steam Heat. He has just completed his first novel, The Bulletproof Truth, and is currently working on the sequel.