Vinyl Treasures: Mark Knopfler and Chet Atkins — Neck and Neck
When the Country Gentleman and the Dire Straits legend hit the studio, guitar magic started happening.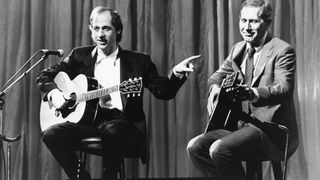 (Image credit: Dave Hogan/Getty Images)
Released in 1990 on Columbia Records, Chet Atkins and Mark Knopfler's Neck and Neck remains my all-time favorite Chet record. Although it's certainly not a quintessential example of his work and style, it's a world-class example of great craftsmanship and well-seasoned guitar playing.
The masterful production was overseen by Knopfler. Les Paul once said the first song of a set is when the audience is checking out what shoes you're wearing. In some ways, that's how I feel about the Neck and Neck opener, "Poor Boy Blues." Although this vocal track won Best Country Vocal Collaboration at the 1991 Grammy's, it's probably my least-favorite song on the record.
That said, it's an easygoing invitation to the second track, "Sweet Dreams," which is so relaxed and lovely, it feels like one is laying on water while having a pleasant dream.
To me, the great Ray Flacke original "Tahitian Skies" is the perfect guitar composition. On this track, the guitars' sounds are perfectly clean but still have a depth of character, and sometimes join forces with pretty harmonies.
The melody is something you think you've heard before but can't place. Truth be told, I've tried to rewrite "Tahitian Skies" numerous times: "Maceo" on Orange, "Alana" on Dream Dictionary, "Molly Harvey" from Last Night, This Morning and "D'Boat" from Table for One all owe a serious nod to "Tahitian Skies."
I still haven't been able to seize the poignant beauty Chet and Mark seem to have effortlessly captured on the gem, but I keep trying.
Aside from being a great listen, Neck and Neck serves as an example of how a well-crafted guitar record can be totally satisfying. It never overexerts itself, and it never leaves the realm of trying to be beautiful. Moreover, Chet and Mark have nothing to prove. Every sound is in service of the songs. It's not a guitar record about guitar — it's a guitar record about music.
The inventive arrangement exemplifies the powerful subtle touches all over Neck and Neck. The original tonic G major is prefaced by a B7 chord that pulls us to Em. Together with the following A7, this has a ii - V tonality, but the A7 still functions as the secondary dominant of the upcoming D7 chord.
Forgive the theory analytics. More simply, Chet and Mark change one chord and the result is a whole new tonal landscape. It's a brilliant addition. Meanwhile the guitars play simple, captivating melody lines that I'd be hard-pressed to edit. I couldn't veto one single note.
Their musical lines are as memorable as the song's original melody. Underneath it all, the rhythm section softly percolates as Paul Franklin plays perfect steel pads and the legendary Floyd Cramer brings his iconic stylistic piano fills. It's a little masterpiece. Neck and Neck has many other high points.
Chet displays his vaudevillian charm on "There'll Be Some Changes Made," and it's hard to believe the banter is anything but off-the-cuff. It's never tedious upon repeated listenings (see Chester & Lester). I chuckle every time Knopfler mumbles, "A little old?" when Chet sings about updating his style to fit current rock trends.
What follows is a tour de force of guitar trade-offs, including double-stops, chicken picking, open-string cascades and the six-string kitchen sink. The result is a perfect conversation between these two guitar masters, without ego or sweaty ambition. Chet and Mark are simply speaking to each other while we voyeuristically eavesdrop.
Some classic Chet Atkins style is showcased on "I'll See You in My Dreams." The Chet two-beat serves as a canvas for 64th-note arpeggios, 6th chords and open-string ring phrases, while retaining an effortless, relaxed cool.
There's a great version of Django Reinhardt's original composition "Tears," and while its changes are necessarily easy for mere mortals, Chet and Mark make it sound like a nursery rhyme filled with a melancholy introspection. Mark O'Connor's fiddle dances playfully over the melody while the two guitars sound simultaneously stark and huge.
All the latest guitar news, interviews, lessons, reviews, deals and more, direct to your inbox!
Jim Campilongo has 14 critically acclaimed instrumental records available on vinyl, CD and digital download here.