Vinyl Treasures: Billie Holiday's 'Last Recording'
Though her troubles were catching up with her, Holiday's final album brought an honest and instructive close to her career.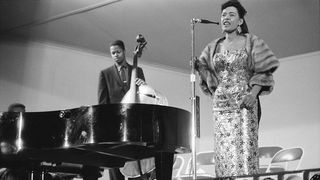 (Image credit: Nat Farbman/The LIFE Picture Collection via Getty Images)
Released on MGM Records in 1959, Last Recording closed the chapter of Billie Holiday's amazing career. We still benefit from the influence of her significant contributions, and of all her recorded work, Last Recording is my favorite Holiday album.
Despite a tumultuous life, Holiday somehow survived and found a path that led to singing in a Harlem nightclub, where she was discovered by John Hammond, who was struck by her ability to embellish and improvise a song's melody. This led to a recording contract, and to her numerous iconic performances.
Though she emerged as a major voice in 20th century American jazz, Holiday faced the ongoing adversity of prejudice of that era where Whites-only restaurants, bathrooms, hotels, and entrances were a part of life in the South and beyond. Her feelings were deeply expressed in her 1954 release, "Strange Fruit," which describes and protests the lynching of a Black man.
Originally titled Billie Holiday, Last Recording was recorded at the tragic end of her career, when substance abuse was taking its toll and affecting her natural gifts and physicality. As a result, the album is sometimes partitioned into a lesser Holiday work, but Last Recording is my favorite of her records (with Lady in Satin coming in a close second).
To my ears, her performances here convey absolute truth, and her frailty and artistry give the listener a front-row seat to her subdued fire. Her wisdom, earned through experience, is always present, and I firmly believe every word she sings. Ray Ellis's arrangements are beautiful and supportive, with every note and solo focused to embellish Holiday's performance and serve the production.
Thankfully, he never succumbs to big blasts or overthought shenanigans, and the soloists are, likewise, ultra-sensitive to the material and mood. Although Holiday requested she "sound like Sinatra," I relate to Last Recording much more than I do most of Sinatra's vocal performances.
Sure, his Only the Lonely evokes the sentiment of heartbreak, but I can't help feeling a cool, smug machismo in many of Sinatra's recordings. To the contrary, Billie Holiday's Last Recording feels like an intimate conversation with a close friend. Her vulnerable and seasoned performances are magical, and she places the song, rather than herself, in the marquee lights. I've listened to this record obsessively.
In many ways, Last Recording was my gateway to appreciating standards. Before I discovered Billie Holiday, standards were, to me, an exercise I felt I should dutifully embrace, like a method actor branching out to learn classical acting via Shakespeare while not understanding or seizing the writer's language.
But after hearing Last Recording, the tracks "Don't Worry 'Bout Me," "When It's Sleepy Time Down South," "I'll Never Smile Again," and "Just One More Chance" called my name. "All the Way," my favorite track, is masterful and perfectly heartbreaking. Holiday sings about the high standard of an idealistic romance, but the bittersweet irony leaves the listener suspecting this is something she never had.
At the time, I felt like these songs were written for me, and I pursued the ambitious goal of trying to make them my own, capturing what Holiday had shared with me. After learning the chord changes, I set out to learn Ms. Holiday's vocal performances on guitar. It was an invaluable lesson that resonates in me today.
It taught me how to emphasize the words rather than prioritize the written melody. When I play a melody, I want to play it like a singer, and that's usually Holiday. As an introduction to Billie Holiday's rich career, Last Recording might not be the quintessential doorway.
It's orchestrated, and she's lost some of her physicality and natural ability, but I was totally unaware of this fact when I first heard the album. There was no vicarious motivation to hear the demise of her talents. To me, Billie Holiday's Last Recording was simply beautiful, and it remains an inspiring life changer.
All the latest guitar news, interviews, lessons, reviews, deals and more, direct to your inbox!
Jim Campilongo has 14 critically acclaimed instrumental records available on vinyl, CD and digital download here.