Tere Estrada on the Hidden Histories of Her Sisterhood of Sirens, Rock Music Sociology and Her Playing Philosophy
Guitarist and author Tere Estrada uncovers the lost women of Mexican rock.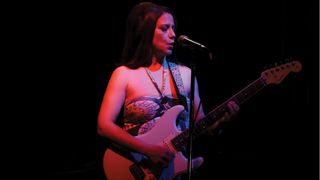 (Image credit: Tere Estrada)
Tere Estrada is a guitarist, singer/songwriter, author and sociologist from Mexico City who plays a mixture of blues, rock, jazz and Latin music.
I reached out to her because of her book Sirens on the Attack: A History of Mexican Rock Women (1956–2000), and I was struck by her dedication to uncovering the stories of female musicians in Mexico.
In 2018, Tere released her eighth album, Un Blues en la Penumbra (A Blues in the Gloom), which is inspired by her novel of the same name, about a Mexican woman who performs in the male world of rock and roll in the 1960s and '70s.
Why did you call your book Sirens on the Attack?
I was making an analogy between the rock women and the sirens. You can find part of it in the United States in a book called Rock in Latin America. My book has 400 pages and the short version has around 40 pages. This short version is called A History of Women Rockers in Mexico.
What inspired you to write it?
I discovered there were very few women playing the guitar and few women in the audience at rock shows. I was busy trying to write music and play, and I wondered, Where are the other women? So I became like a detective looking for the other women, who were like the wind, because you only know them by name but you do not have any CD, LP or whatever with their music.
Is it acceptable for a woman to be a guitar player in Latin American culture?
In general, it's not considered professional to be a musician. And, of course, women who play with electric instruments are considered to be "breaking the rules." It doesn't matter if you played in the 1960s, '80s or '90s. The audience doesn't believe that you belong in the band.
When did you start to play guitar?
When I was 13, I took up the guitar and joined the Union of Musicians and our Society of Composers. I went to the Society and I took some lessons there. I studied for two years. I also took guitar classes and singing classes for five years.
Did you study to be a sociologist?
Yes, I did my thesis about rock music, because music was the most important thing in my life. I am a member of the Latin branch of the IASPM [International Organization for the Study of Popular Music]. There are some historians and very few sociologists, but being a sociologist really helped me with the research.
Are you a full-time musician now?
Yes. When my book appeared in 2002, I asked myself, What are you going to do? You spent 10 years of your life doing research. I have interviewed close to 100 women. Since then, I have been dedicated to promoting and doing lectures about the role of women in rock in Mexico, and I also played concerts.
In 2002, I toured Norway, Germany, Italy and Spain doing lectures about my book and playing concerts. I'm touring every time I talk about these women so that they are known. It's a compromise, because I'm not promoting what I'm doing as much, but I'm promoting these other women. We are the sisterhood of the sirens.
Tell me about your rig.
I play a Sonic Blue Fender Stratocaster through a Fender Model 85 amp. I've had the amp since 1991. I love that sound: Fender amp plus Fender Stratocaster. My pedals are a Dunlop Cry Baby Classic Wah, a Behringer Vintage Tube Overdrive and an Ibanez Digital Delay.
I have an Applause AE-38 electro-acoustic guitar that I bought in 1990. It has a crackled black-and-bone finish. Her name is Negra, and she's a traveler. We've been touring for 30 years together. My guitar philosophy is, Have fun, jam with yourself and feel free. Breathe and play. Let your fingers connect with your heart.
See tereestrada.com for more information.
Sue Foley's latest album, The Ice Queen, is out now via Stony Plain Music.
All the latest guitar news, interviews, lessons, reviews, deals and more, direct to your inbox!