Rick Nielsen: How I Wrote Cheap Trick's "Surrender"
A nursery rhyme, a Les Paul and the world's first Orange Amp – here's the story behind a bona fide rock anthem.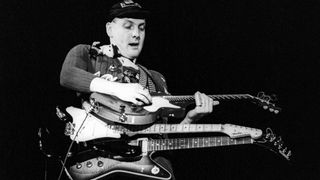 (Image credit: Ed Perlstein/Redferns/Getty Images)
Although "Surrender" was featured on Cheap Trick's third album, 1978's Heaven Tonight, the song actually dates back to the band's pre-record deal club days.
As guitarist Rick Nielsen points out, "We almost recorded it for our debut album, but we did something like 26 songs for that one, so 'Surrender' never made it. Nor did it make our second album, In Color. It wasn't until the third album that we gave it a go."
Released as a single, the studio version of "Surrender" stalled at number 62 on the Billboard charts. The track didn't take on its status as a rock anthem until 1979, when the band delivered its bravura live performance of the song on their breakthrough album, Cheap Trick at Budokan.
"The studio version is good, but I'm partial to the live version," Nielsen says. "There are no gimmicks: It's guitars, bass, drums and vocals. And how good is that? I think it's really good!"
A High School Nursery Rhyme
"I wrote it at home late one night. I was playing an unplugged electric guitar, and I had a rhythm thing going on. Then I started singing to myself: 'Mother told me, yes, she told me, I'd meet girls like you.' It kind of sounded like a nursery rhyme to me, only it was a rock nursery rhyme for somebody in high school wearing a leather jacket.
"I wrote down lyrics as I went. It was all kind of stream of consciousness, but a lot of it was true. 'Mommy's all right, daddy's all right, they're just a little bit weird.' Whose parents aren't weird? My parents were weird. And that part about the Women's Army Corps – the WACs – that was because my aunt was in the WACs. I had to clean those lyrics up a bit.
"The song changes keys throughout. It starts out in B-flat major and then it goes to B major, and for the last verse we move to C. I just thought the song was sounding linear, so what's a good way around that? Change the key! It ups the excitement factor. Think about the Who's 'My Generation.' Same thing."
"Fix It In The Mix"
"We had played 'Surrender' a bunch of times live, so we knew it was a good song and went over well. [Producer] Tom Werman might have had a few suggestions in the studio, but I don't think they were major. We just went in and played it a couple of times.
"There are two tracks of me on guitar and one of Robin [Zander]. I played a Les Paul through an Orange amp. I had the first Orange amp ever built – it had two 12s in it. The thing had a lot of punch. Robin played his blonde Rickenbacker, like the one John Lennon used. We got some good guitar tracks on that song.
"Because of time constraints, I wasn't around for the mixing. I actually heard it over the phone in an airport. There's that old line – 'We'll fix it in the mix' – and with this one it was like, 'Uh-oh… ' There's some keyboards on the song, and I thought they were way too loud. Eventually it got sorted out."
It Never Gets Old
"It was a turntable hit, but radio wasn't really playing it. But when we performed it live, everybody thought it was this big chart hit. So when it finally came out on Budokan, it was like, There you go! That's how we sound.
"We spent a lot of years opening for bands like Kiss, Queen and the Kinks. We were known, but we weren't a household name. The live version of 'Surrender' changed things for us. Now we weren't just an opening band; we were played on the radio all the time. It was tremendously exciting. I still love to play the song live. People laugh, they cheer, they sing along. I never get tired of that."
All the latest guitar news, interviews, lessons, reviews, deals and more, direct to your inbox!
Joe is a freelance journalist who has, over the past few decades, interviewed hundreds of guitarists for Guitar World, Guitar Player, MusicRadar and Classic Rock. He is also a former editor of Guitar World, contributing writer for Guitar Aficionado and VP of A&R for Island Records. He's an enthusiastic guitarist, but he's nowhere near the likes of the people he interviews. Surprisingly, his skills are more suited to the drums. If you need a drummer for your Beatles tribute band, look him up.