More Cowbell! 10 Rock Guitar Classics That Bring the 'Bell
Laugh all you want, but that distinctive 'tonk' can mean the difference between a good rock song and a great one.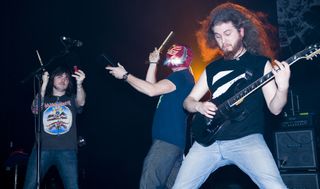 (Image credit: Naki Kouyioumtzis/Future)
As Christopher Walken famously implored Blue Öyster Cult in a Saturday Night Live skit years ago, "I got a fever. And the only prescription is…more cowbell!"
Laugh if you will, but most jokes are funny because they bear a hint of truth. That distinctive clonk, thok, and/or tonk can mean the difference between a good rock song and a great one.
Here are 10 that belong in the latter category.
10. "Dance the Night Away" – Van Halen
Hands up: Has anyone ever danced to Van Halen? Sober? Neither have we. But Alex Van Halen did his best to flood discos with his limber wrist work here. Hard to tell, but I think he was expecting us to samba.
9. "Hair of the Dog" – Nazareth
"Now you're messing with a …sonofabitch!" Whew, don't tangle with that guy – he not only hates his mom but he's brandishing a cowbell. Sweet falsetto on the chorus there, tough guy.
8. "We're Not Gonna Take It" – Twisted Sister
Again, nothing says "Hasta la vista, baby" like cowbell. Which is why Arnold Schwarzenegger adopted this as his gubernatorial campaign song years ago.
7. "Low Rider" – War
The one and only time you want to hear a clunking sound beneath the hood of your ride, low or otherwise.
6. "Working for the Weekend" – Loverboy
You know it's quittin' time when you hear the clang of a cowbell – at least in Canada, apparently. Perhaps these Albertans worked on a dairy farm before milking the big time. Just picture it: Mike Reno herding Betsy in his red leather trousers and headband...
5. "Evil Ways" – Santana
The cowbell has its musical origins in Latin percussion, so it's no surprise that a Santana tune would feature one of the more musical applications of the instrument – as opposed to, say, using it to conceal a weak rhythm track.
4. "We're an American Band" – Grand Funk Railroad
They said, "Come on, dudes, let's get it on!" No time for a second take, then. Just throw on some cowbell. No one will notice.
3. "Mississippi Queen" – Mountain
The virtuoso cowbell performance on this composition provides a signature lead-in while retaining a certain stylistic verisimilitude that, in other words, rocks like a freaky Mississippi queen. You know what I mean?
2. "Honky Tonk Women" – The Rolling Stones
Tonk-tonk, t-tonk, tonk… Maybe Charlie Watts just conditioned us with this funky little rhythm. Like Pavlov's dog, rock fans hear the 'bell and involuntarily begin to salivate. Nice one, Charlie.
1. "Don't Fear the Reaper" – Blue Öyster Cult
Contrary to the SNL skit, it was guitarist Eric Bloom, not the fictional Gene Frenkle, who "explored the studio space" with his cowbell.
The thinking man's hard-rock group were doubtless making a clever literary allusion with their choice in percussion, as in, "Ask not for whom the [cow]bell tolls; it tolls for thee." Or maybe they just wanted to peg the kickass-ometer.
All the latest guitar news, interviews, lessons, reviews, deals and more, direct to your inbox!
Guitar Player is the world's most comprehensive, trusted and insightful guitar publication for passionate guitarists and active musicians of all ages. Guitar Player magazine is published 13 times a year in print and digital formats. The magazine was established in 1967 and is the world's oldest guitar magazine.
When "Guitar Player Staff" is credited as the author, it's usually because more than one author on the team has created the story.