Lita Ford: "I Don't Know Why Power Ballads Have Such a Bad Rap, I Think They're Badass. And 'Close My Eyes Forever' is as Badass as it Gets"
The glam metal guitar icon reveals how a few games of pool (and a shared bottle of wine) with Ozzy Osbourne played a role in the writing of their smash hit duet.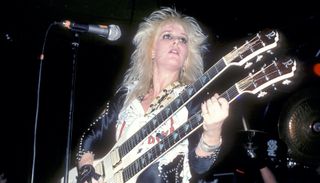 (Image credit: Ron Galella, Ltd./Ron Galella Collection via Getty Images)
Go ahead and call "Close My Eyes Forever" a power ballad. Singer/guitarist Lita Ford won't mind. In fact, she enthusiastically embraces the term.
"I don't know why power ballads have such a bad rap," she says. "I think they're badass. And 'Close My Eyes Forever' is as badass as it gets." Ford's dark and dramatic duet with Ozzy Osbourne was a career high – chart-wise, that is – for both artists, hitting number eight on the Billboard Hot 100 in 1989.
"That's pretty incredible," Ford says. "For all the success that Ozzy had in Black Sabbath and as a solo star, he'd never had a Top 10 single. And in terms of my career, it put me on a new level entirely. For so many reasons, it's a very special song to me."
Everybody Into The Pool
Having achieved moderate success with her first two solo albums, Out for Blood (1983) and Dancin' on the Edge (1984), the former Runaways lead guitarist signed with Sharon Osbourne Management and recruited pop/new wave hitmaker Mike Chapman (Blondie, the Knack) to produce her third album, Lita. The record was nearly finished when, one day, Sharon and Ozzy paid an unexpected visit to the studio.
"We were just hanging out," Ford recalls. "Ozzy and I started shooting a game of pool, which turned into many games. Eventually, Sharon got bored and left me with Ozzy. We opened a bottle of wine and were having a grand old time."
After a while, the two moved their party to an isolation booth to get away from noisy studio engineers. Ford picked up a guitar and started strumming. "It wasn't anything I had already written; the whole thing was spontaneous," she explains. "Then Ozzy began singing these lines: 'If I close my eyes forever, will it all remain the same?' I was like, 'That's great!' I sang words back to him, and before we knew it, we had most of the song written. It was like magic."
"Screaming, Crying" Perfection
Ford went home and finished the song on her own, and the next day she was back in the studio to record the track.
"Mike Chapman knew a good song when he heard one," she says. "I think everybody thought this one was a no-brainer." The basic tracks – which included bassist Don Nossov and keyboardist David Ezrin performing to programmed drums – went quickly and smoothly, with Ford playing an Ovation 12-string acoustic guitar on the intro and her trusty B.C. Rich Warlock for the crunchy electric rhythms.
The stinging guitar solo, however, took some work. "It had to be screaming, crying, melodic – and something people could hum," Ford says. "It was all improv. I did a few passes because Mike was a perfectionist – 'Do it again!' I played it 'til it was the best I could do."
When it came time to record the vocal duet, Chapman arranged Ford and Ozzy face to face but separated them with a sheet of Plexiglas. "It was a standard duet – 'I'll sing the first half, you sing the second' – so it didn't take long to arrange the parts," Ford says. "It was awesome. Ozzy and I had a great chemistry. We vibed off each other beautifully."
Hot Forever
Released in 1988, Lita performed well. Its first two singles, "Kiss Me Deadly" and "Back to the Cave," set things up nicely for "Close My Eyes Forever," which exploded out of the box on radio and MTV, propelling the album to Platinum status.
"Some hit songs surprise you, but with this one, we would have been surprised if it wasn't a hit," Ford says. "It didn't have to build. It was hot right away. Some things are just meant to be."
Since its release, "Close My Eyes Forever" has been a fixture in Ford's live shows. She performs the vocal duet with her longtime co-guitarist, Patrick Kennison. To replicate all of her guitar parts in concert, she utilizes a six-/12-string B.C. Rich Warlock double-neck. "Whenever I pull out the double-neck, the crowd goes crazy. They know what's coming," she says.
"I get chills every time I play it. When I look out at the audience, I see people with tears in their eyes as they sing along. It's an incredible feeling to see that. I never thought a song of mine would have such a powerful impact on so many people. They tell me all the time how much it's meant to them in their lives. And I have to say, I feel the same way. It means more to me now than ever."
All the latest guitar news, interviews, lessons, reviews, deals and more, direct to your inbox!
Joe is a freelance journalist who has, over the past few decades, interviewed hundreds of guitarists for Guitar World, Guitar Player, MusicRadar and Classic Rock. He is also a former editor of Guitar World, contributing writer for Guitar Aficionado and VP of A&R for Island Records. He's an enthusiastic guitarist, but he's nowhere near the likes of the people he interviews. Surprisingly, his skills are more suited to the drums. If you need a drummer for your Beatles tribute band, look him up.