Kirk Hammett: The Five Guitar Solos That Changed My Life
Metallica's lead guitarist tells GP about the five solos that most shaped his playing.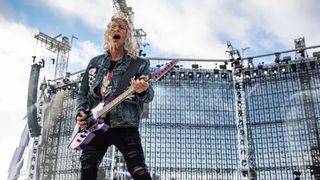 (Image credit: Per Ole Hagen/Redferns)
The following is an excerpt from an archival GP interview with Kirk Hammett, in which we asked the Metallica guitarist to list the five guitar solos that changed his life.
"Let Me Love You Baby" - Jeff Beck Group
Why? It was the first guitar solo I figured out by myself!
"Mother Mary" - UFO
Hearing Michael Schenker for the first time changed how I wanted my own solos to sound in terms of phrasing, technique and being something that was memorable and catchy.
"Machine Gun" - Band of Gypsys
A sonic, mystical, multi-dimensional journey into some otherworldly soundscape that triggers my imagination every time I hear it. I feel captivated by the mere mention of this song!
"Sails of Charon" - The Scorpions
To me, Ulrich Roth was one of the first guitarists to use that neo-classical guitar style, and this solo was totally unique at the time, simultaneously melodic and dynamic, with a climax so incredibly ripping. How can so many notes be so perfectly in place?
"Warrior" - Thin Lizzy
This solo was the first time I'd ever heard a wah pedal. I remember that when that sound came out of the speakers, it startled me. The one guy that I've always thought did not get enough credit was Brian Robertson, and his style and feel is something that I aspire to.
All the latest guitar news, interviews, lessons, reviews, deals and more, direct to your inbox!