Kim Thayil: My Career in Six Songs
The former Soundgarden lead guitarist shares some deep cuts and reflects on a career chasing beautifully heavy sounds.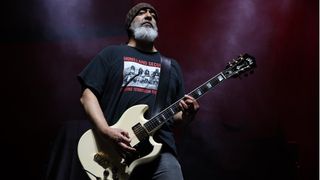 (Image credit: Dave Simpson/WireImage)
Over the course of more than three decades as lead guitarist and co-songwriter for Soundgarden, Kim Thayil was responsible for crafting some of the most twisted, psychedelic, and downright heavy riffs and solos in the modern rock canon.
So it's not surprising that when people think of him as a musician, "the first thing that comes to mind is the body of work that I did with Soundgarden," Thayil says. But, he adds, "there's other stuff that I'm really satisfied with as well."
Which is all the more reason why Thayil was happy to sit down with Guitar Player and discuss some of his favorite guitar performances from his long and illustrious career. Not content to stick with five tracks, he gave us six worthy recordings to consider.
They comprise, of course, plenty of Soundgarden moments, including the roiling drop-D psychedelia of 1987's "Nothing to Say," the dew-drop "Tinker Bell" notes of the smash 1994 ballad "Black Hole Sun," and the droning Eastern-sounding lines of "A Thousand Days Before," from Soundgarden's final studio album, 2012's King Animal.
But there are also surprises, like Thayil's first-ever recorded effort, with a punky, power-poppy Chicago combo named Identity Crisis, and his outside-the-box work with producer Steve Fisk's Pigeonhed. It's all incredibly varied and inventive, and also undeniably Thayil.
"Ultimately, I want to capture something that has elements of trippiness," he says of his singular guitar style. "I want there to be heavy elements, but they don't have to necessarily be viscerally weighty; they just need to be dark. And I want things to be beautiful, but not candied, and to have some sort of lullaby nature.
"So I'm thinking if I can tie all those things together – trippy, psychedelic, lullaby, beautiful – with the darkness and the heaviness, that's how I want things to be," he adds. "That's what I like to listen to, and it's what I want to hear coming from my fingers."
"Pretty Feet" – Identity Crisis, Pretty Feet EP (1980)
"We financed everything ourselves, and it was really satisfying to write songs and to actually record them and have it pressed on vinyl. I can't imagine how four guys in their late teens wouldn't be elated with that.
"We lived in the south suburbs of Chicago, and this guy brought down a four-track reel-to-reel, probably a Teac, and we set it up in our rehearsal studio, which was my dad's basement, and recorded three songs. One of them was 'Pretty Feet.' It's in the three-chord, power-chord, Kinks–AC/DC sort of vein, and I wrote the music and lyrics, which were kind of silly and flippant.
"I used a 50-watt Marshall combo that I borrowed, and a black Guild S-100 guitar that I still have. The guitar had the nickname Spider-Man because I put a Spider-Man sticker on it. Because I was once a teenager." [laughs]
"Nothing to Say" – Soundgarden, Screaming Life (1987)
"This was off our 1987 debut EP, which was our first foot forward. The next year we did another EP, Fopp, and in 1990 the two were paired together as Screaming Life/Fopp, which we are now celebrating the 30th anniversary of.
"I wrote the music for this one, and it's significant for a couple of reasons: It was the first song that we recorded in drop-D tuning, which ended up becoming a bit of a signature for Soundgarden. And it was the one that got some interest from record labels.
"People would say they were blown away by the uniqueness of the song. You have the heavy drop-D thing, and then it kind of moves up during the verse to this Eastern-sounding drone melody. It's dark, heavy, and pounding, but it's also kind of psychedelic and has a lullaby quality to it.
"A lot of A&R guys thought it sounded familiar to things they'd grown up loving, but that it also sounded different. Whether it was the tuning or the Eastern thing or Chris [Cornell]'s wail, they said, 'Let's check these guys out!'"
"Rusty Cage" – Soundgarden, Badmotorfinger (1991)
"This was Chris's song, and it has one of the coolest arrangements. It's a verse/chorus, verse/chorus thing, and then a C section and a D section ending. It's trippy as hell. I remember I spent a lot of hours, days, and months learning the main riff, because it's not an easy one to play.
"Eventually it became easy and we were able to play it live, but I will say this: The fact that Chris could play the riff of this song and sing it at the same time – I don't know if that's more a testament to his abilities to weave a melody around a trippy riff or to his abilities as a guitar player. But it was pretty amazing to see."
"Black Hole Sun" – Soundgarden, Superunknown (1994)
"When this song was written, I remember thinking there were aspects of it that sounded very Soundgarden-like, but there were aspects that didn't. It was certainly expanding the criteria that people would recognize as being stylistically Soundgarden. I also remember thinking, Oh my god, this thing is a hit. As a rock guitarist. I kind of took a step back from that. Like, Do we want to do this?
"Trying to learn the parts that Chris wrote was different for me, because the arpeggiated parts at the beginning of the song and through the verse were difficult. I was used to playing fast or brutal, or heavy or psychedelic. But to me, this sounded like Tinker Bell walking over the right hand part of the piano keyboard. [laughs] And I don't do that.
"It was a particular challenge, and I've got to say I was not enthused at all about having to rein in my guitar style in order to record this thing.
"In the studio, I think Chris's [guitar] tracks might have been cranked up in the mix, or possibly they might've taken me out. I can't remember. But live, I ended up having to do it. Eventually it was like, Okay, I'm going to have to learn those little Tinker Bell parts, and I'm going to have to suck it up. And I did. And it became a fun song to play."
"Battle Flag" – Pigeonhed, The Full Sentence (1997)
"Pigeonhed was a project by Steve Fisk and Shawn Smith. Steve produced Soundgarden's Fopp EP, and he also did some early Nirvana sessions. We lost Shawn last year. He sang in a band called Brad, which was a side project of [Pearl Jam guitarist] Stone Gossard's.
"I worked on a few songs on this record, and it was a different way for me to work. Steve would come up with some beats and sometimes a bass riff, and I'd go over to his home studio, and all I had to do was listen, come up with a guitar part and we'd track over it. And then I'd come up with a second or third guitar part to play along with the arrangement changes or to go over a riff I'd already put down.
"And that was a lot of fun. It left me a lot of room in which to do a lot of different things. The song 'Battle Flag' ended up being used in an episode of The Sopranos. By the way, I've never seen one episode of The Sopranos except for the scene that this song plays in.
"The funny thing is, the version they used was a remix by a band called the Lo Fidelity Allstars. And in the remix they pretty much kept the groove and the vocal, and they cut out Steve's keyboards and my guitar part. It makes it very difficult when the version of the song you recorded for your friend's band is the version that doesn't have you or your friend on it." [laughs]
"A Thousand Days Before" – Soundgarden, King Animal (2012)
"The song's working title was 'Country Eastern.' It was an idea that started some time in the mid '90s. Then, of course, the band broke up in '97, and so I took it with me.
"The tuning on that one is the same one that's on [Soundgarden] songs like 'Head Down,' 'Burden in My Hand,' and 'Pretty Noose,' which I believe is C G C G G E. And that tuning facilitated certain things, like doing octaves in different positions, and doing drones and unison playing, because you have the two G strings next to each other.
"So I had the tuning, and I just started farting around and that riff came up. It sounded a little bit country but also kind of Indian. And, hey, I'm an Indian guy, and I was born in Seattle, raised in Chicago, and I got my dose of Johnny Cash, so I just referred to it as 'Country Eastern.' And that's how everyone else referred to it until Chris wrote lyrics to it prior to the recording of King Animal."
All the latest guitar news, interviews, lessons, reviews, deals and more, direct to your inbox!
Rich is the co-author of the best-selling Nöthin' But a Good Time: The Uncensored History of the '80s Hard Rock Explosion. He is also a recording and performing musician, and a former editor of Guitar World magazine and executive editor of Guitar Aficionado magazine. He has authored several additional books, among them Kurt Cobain: Montage of Heck, the companion to the documentary of the same name.