Jeff "Skunk" Baxter: "I Wanted to Put Some Muscle in 'My Old School'"
The session guitar great explains why he chose to re-work two Steely Dan classics, "The Rose," and more for his adventurous solo debut album, 'Speed of Heat.'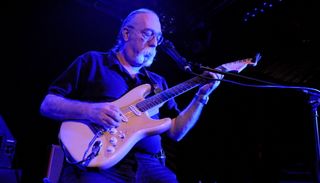 (Image credit: Richard E. Aaron/Redferns)
As part of a larger interview with electric guitar legend Jeff "Skunk" Baxter, we asked the Steely Dan and Doobie Brothers legend a few questions about his solo debut album, Speed of Heat.
Here, Baxter chats about his favorite tracks from the album, and why he decided to use its recording as an opportunity to put a new spin on a couple of beloved Steely Dan tunes.
Speed of Heat features a beautiful version of "Apache."
"Oh, thank you. Of course, I was familiar with both the Jørgen Ingmann version and the Shadows' version – Hank Marvin and the Shadows. I always loved the song, and similar to 'My Old School,' I always thought there was a seed of power lurking in that composition. I thought, Okay, I'm going to have a try at seeing if I can inject some horsepower into this. And we definitely did.
"It's lyrical and majestic – cinematic. That was kind of the idea because 'Apache' refers to a very noble and majestic race of people. In my own way, I was trying to translate that."
In your version of "The Rose," you play pedal steel, but you don't use it as a flavor; rather, you perform the vocal line on the instrument.
"That's correct. First of all, I love the instrument. It has a sound and a voice that, to me, is very special and unique. Some years ago, I was on the board of advisors for Guitar Player, and I was also writing a monthly column. For the 25th anniversary of the magazine, I was asked to do a tribute to guitar players that had passed on. I agreed, and I thought about it… and thought about it… Then I heard 'The Rose,' and I thought, this is a beautiful song.
"There's something about this, even without the lyric, that is just special. My contribution was to go up onstage and play an acapella version of the song. I got almost through the first verse when Adrian Belew came out, plugged in and started playing with me. He's a friend, and I love his playing. By the time we got to the end of the second verse, we had a whole band – everybody had come out and played, and it was beautiful.
"I thought about it later on when making the album. As a matter of fact, I've got a note here to call Adrian and thank him for helping inspire me. It just made perfect sense to keep the a capella part to showcase the voice of the pedal steel and demonstrate its beauty. CJ [Vanston, Speed of Heat's producer] wrote a beautiful arrangement of the tune, but as we were working on it, I thought, How do we turn the song into something that leaves people with a memory?
"I started to think about my father, who I love very much. In the same way as when I had originally performed the song at the Guitar Player anniversary, in memory of great players that had passed, I did it in memory [of] another great man who passed – my father. All during the performance of it in the studio, that was on my mind. That was the motivator."
You do radically different new takes on two Steely Dan tunes from your past. With "Do It Again," you turn it into more of an R&B groover.
"Yeah, it's a shuffle. I love the whole vibe of shuffles. I always thought it could go in another direction. A great song is a great song, so you can rework it. Don't get me wrong: I have great respect for the original, but when CJ and I started looking at what we could do with the song, we felt like another groove was in order."
And you rocked up "My Old School" a great deal.
"I always thought the song could rock. It's an idea I had for a while, really – I wanted to put some muscle in it. Some songs are sacrosanct, I guess, but not many. There's always a new way to approach a song."
I guess it wasn't a stretch for you to sing it, as you had done so onstage with Steely Dan.
"It wasn't, but in point of fact, I did a scratch vocal and sent it off to Steven Tyler, because I really wanted him to do it. He listened to the track and said, 'Who's singing it? It sounds pretty cool.' I told him it was me and that it was just a scratch, and he said, 'What's the matter with you? Why don't you sing it?' I told him, 'But I'm not a singer,' and he said, 'Yeah, you are.' So I said, 'Well, you know more about this stuff than I do, so I trust your judgment. I'll take a shot at it.' I think it worked out pretty well."
I love the nylon-string solo you do on the cut "Juliet." But it's hard for me to tell just by listening to it – are you fingerpicking that?
"Yep, that's fingerpicking – I've got sharp nails. That song came about one day when CJ and I set up to start working. Usually, we start out with a tempo on the drum machine just to see where it will take us. This one day, CJ walked away to do something and the drum machine was going, and that's when I just came up with the opening riff. He came back and said, 'Wow, what's that?' And just like that, we wrote the song on the fly.
"I love it when that happens. Another ballad on the record, 'Giselle,' appeared out of nowhere in the same sort of way."
You and Jonny Lang trade knockout solos on "I Can Do Without." How much planning went into what you two would play?
[laughs] "As far as I know, we spent zero time worrying about who's playing what. The idea of trading solos was something we wanted to do from the beginning. As soon as we had the track down, it just unfolded. It was almost too easy.
"Jonny is a very tasteful player. He's a guitarist who has a good amount of studio experience, and with that he's developed a sense of etiquette. One of the things you learn from doing so much studio work is, you don't stomp all over everybody's playing; you kind of wait and see what everybody else is doing and add what you think is right. That's etiquette. Jonny and I both understand how it works."
The album's title track is full of hair-raising soloing, but you never lose the framework of the song and melody. There's a meaning behind each solo.
"Sure. That goes back to my first influences, the players who instilled a sense of melody and composition in me. There is a theme that we repeat – it's not a fugue – but I did try to keep it moving and introduce new elements.
"That was a fun song to play. I did a whole take, but then I found a couple of sections where I comped it. After that, I wanted to learn the whole thing and play it all the way through again, 'cause I think that's important."
All the latest guitar news, interviews, lessons, reviews, deals and more, direct to your inbox!
Joe is a freelance journalist who has, over the past few decades, interviewed hundreds of guitarists for Guitar World, Guitar Player, MusicRadar and Classic Rock. He is also a former editor of Guitar World, contributing writer for Guitar Aficionado and VP of A&R for Island Records. He's an enthusiastic guitarist, but he's nowhere near the likes of the people he interviews. Surprisingly, his skills are more suited to the drums. If you need a drummer for your Beatles tribute band, look him up.