"I Was a Bit of a Lunatic!" Steve Howe Speaks About His Number One Ax
The Yes legend reflects on his love affair with the Gibson ES-175D.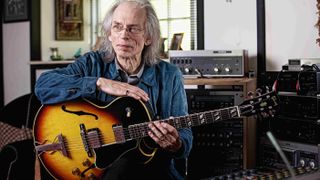 (Image credit: Future)
The ES-175D is not a conventional rock guitar, but then Steve Howe is far from a conventional rock guitarist. Long synonymous with the classic Gibson archtop Howe bought his first 175 many moons ago. And though he prefers not to travel with it these days, this electric guitar remains his main squeeze. In fact, he recently recorded a bulk of the new Yes album ­– The Quest – with it.
Gibsons weren't easy to come by in England in 1964, when you acquired your first ES-175. How did you get it?
It had to be ordered. I went to Selmer on Charing Cross Road and said, "I want a 175," and they went, "Well, we haven't got any of those." But they said not to worry, as they could get me one as long as I ordered it. They ordered it, and two months later I went and picked it up.
One of the guitarists that I admired at the time was Kenny Burrell. I got back home, plugged it into a Fender Tremolux and played "Chitlins Con Carne," or something, and…that's Kenny Burrell! That's his sound. He did play a 175, but his main guitar was a Super 400.
How do you tame the 175 onstage?
It might be just about where you set your bass level on your amp. If you've got that too high, this guitar is going to give you all the trouble it's known for.
Have you ever had it refretted?
Once. Tim Stark from Mansons Guitars, Exeter, was the only person ever allowed to do anything of that nature. People used to be amazed that I'd gone about 40 years on this guitar and it hadn't been refretted. I got used to the flat frets. In fact, they were marvelous, but there were a few little problems. The 14th fret on the G got very buzzy.
Tim said, "Well, look, I know you don't want to have it refretted, but it's the only way." I've always been very possessive of this guitar. I used to do my own guitars, right through the '70s. I'd restring and tune them. I'd have 10 guitars and I'd do that every day. I wouldn't restring all of them, but the 175 was always restrung, every day. So, basically, I was a bit of a lunatic! But if you love something, you should nurture it.
All the latest guitar news, interviews, lessons, reviews, deals and more, direct to your inbox!