Frank Hannon on Tesla's Very Special Jam in London
30 years after igniting the acoustic revolution, Tesla headed to Abbey Road Studios for a commemorative celebration.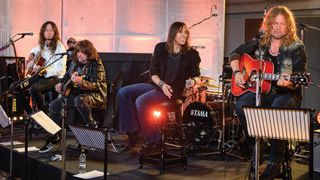 (Image credit: Future / Kevin Nixon)
No band heralded the 1990's unplugged revolution like Tesla. Acoustic guitar has always played an essential role in the music of the Northern California rock and rollers, who were well ahead of the curve when it came to that decade's major musical trend.
"We certainly didn't invent the acoustic set, but the timing of it all was magical," founding guitarist Frank Hannon says. While on a break as the opening act on Mötley Crüe's monstrous Dr. Feelgood tour in 1990, Tesla cut Five Man Acoustical Jam live at the Trocadero in Philadelphia. For a major rock act to release an album of live acoustic music turned out to be a big deal.
Five Man Acoustical Jam went Platinum and helped ignite the acoustic movement during the following decade, when seemingly every guitar-driven act took a stab at it. 30 years later, the group has returned to the acoustic fold with Five Man London Jam (Ume).
The album was recorded live in a single-day session at Abbey Road Studios in London, where Tesla set up shop in Studio Two to honor their illustrious past while reworking recent material.
"It was a once-in-a-lifetime opportunity," Hannon says. "We wanted to create something special to celebrate the 30th anniversary of Five Man Acoustical Jam, and there was no better place to do something different and exciting than Abbey Road."
In addition to giving Hannon an even wider platform to showcase his diverse acoustic skills, as evidenced on the solo etude introductions to originals including "Little Suzi" and "Love Song," Five Man Acoustical Jam featured rock-folk takes on a bevy of choice covers, such as "We Can Work It Out" and the smash hit, "Signs." The latter two in particular show the band's deep respect for the music of the '60s and '70s.
The Beatles originally recorded the former at Abbey Road in Studio Two, while "Signs" was a 1971 hit for the Canadian outfit Five Man Electrical Band, whose name provided the inspiration for the title Five Man Acoustical Jam.
Tesla perform "Signs" acoustically again on London Jam, with nearly the same lineup that played on the first version. The notable exception is guitarist Dave Rude, who stepped into Tesla's machinery in 2006 when he replaced Tommy Skeoch.
London Jam also features three new songs composed by Hannon, Rude and Def Leppard guitarist Phil Collen, who produced Tesla's latest studio album, 2019's Shock.
They include the nostalgic "California Summer Song," the blues rocker "Tied to the Tracks" and "Forever Loving You," which features a particularly lovely chord progression. "Love Song" shines brightly once again as well, this time in a closing role.
Tesla shot high-definition video at Abbey Road, and clips of Hannon's signature song plus "Signs" and "We Can Work It Out" provide great views of Rude and Hannon's hands on their acoustics. Hannon's dashing-looking and seriously delightful-sounding new signature Gibson "Love" Dove is especially noteworthy.
Learning "Love Song," especially its intro, is practically requisite for acoustic rockers. Can you tell how the tune came together?
That song evolved over time. Jeff and I were messing around with it during some downtime when the band was working on [1989's] The Great Radio Controversy in the studio. There was a piano in the other room where I would work on chord changes. The song actually started with the big ending chorus. We had the melody, but it was just "nah nah nah nah nah" until Jeff came up with "love will find a way."
When I got home, I set up my little four-track at my grandma's house. I recorded that chorus melody and worked out more chord changes on the piano. It wasn't until the very end of the process when I started experimenting with adding acoustic guitar parts.
I had this little bluegrass-style fingerpicking thing, but I couldn't really get the hang of it, so I decided to simplify, and that become the intro. Sometimes simple is good. I went into a studio in Lodi, California, to record my original intro on an Epiphone DR-100 and sent the tapes to New York to add to the album.
Gibson gave me the Epiphone acoustic as well as the double-neck EDS-1275 that I used on the original "Love Song" recording when Tesla was out with Def Leppard on the Hysteria tour in 1987 and I visited the factory with Steve Clark.
Bluegrass, really? The intro sounds more classically influenced.
Yeah, it was a bluegrass part that I couldn't get to sound right because it was too fast, so I broke it down and slowed it down. The same goes for another fingerpicking acoustic intro that I did, which was for "Little Suzi" on the first album, Mechanical Resonance [1986]. I was only 18 or 19 when we were doing that stuff, and I was very ambitious about learning different styles.
I was influenced by Randy Rhoads and read that he'd studied classical music. I loved jazz, and I'd read that Peter Frampton studied jazz. So I would take lessons on the road when we had time off. I'd go into small music stores in Fort Wayne, Indiana and Rapid City, South Dakota, trying to learn bluegrass flat-picking and how to play with a thumb pick.
Our other guitar player, Tommy, was awesome at doing his one thing, so as the youngest guy in the band I was trying to learn different styles to bring to the table that would complement his. I felt my role in the band was to add all sorts of other spices to it.
What was the inspiration for another one of your big acoustic features, "What You Give"?
I was experimenting with learning how to play pedal-steel–style country licks at the time of Psychotic Supper [1991]. I played a Telecaster a lot, but mine didn't have a B-Bender, so I would emulate that style the best I could using my pinkie.
I was noodling around with the "What You Give" riff while we were on tour with Poison. That was before "Every Rose Has Its Thorn" came out, and Bret Michaels was working on it every day at soundcheck. I was impressed with his work ethic, because he chipped away at that song a lot. I showed "What You Give" to C.C. DeVille, and he said, "That's a great riff. I hate you! You play like an old man!"
He's right, that part does sound "old." I love C.C. DeVille. He's awesome and he took good care of us on that tour. But he also said, "The other part sucks!" He hated the chorus and said that I shouldn't do it, but I didn't listen to him, and we went ahead and did it once Jeff finally wrote some lyrics
"What You Give" is the first recording I did with my original '76 Gibson Dove. I found it in 1989 at a shop in New York while we were recording Psychotic Supper, and I recorded "What You Give" that same day. It was the first time I was truly happy with an acoustic guitar sound. The brighter combination of maple back and sides with a spruce top makes notes pop out when picking arpeggios, and blends well with electric guitars in a mix.
Our gear was in storage when we did the original Five Man Acoustical Jam show, so we used loaner gear. I ended up stuck with some weird black thinline Guild acoustic, and I was never happy with the sound. After finding the Gibson Dove acoustic, I never looked back and have played them ever since. I used the '76 Dove to film the intro of "Love Song" for our greatest hits DVD, Time's Makin' Changes.
As it turns out, when Gibson chief merchant officer Cesar Gueikian got married many years ago, he and his wife chose "Love Song" as their wedding song. We struck up a great relationship at the NAMM show, and we jam on "Love Song" every time we get together.
To commemorate 30 years of the song, Gibson created a signature "Love" Dove that will become available this year after all this coronavirus craziness lifts and the factory opens back up.
Is that your main acoustic on Five Man London Jam?
Yes, I played the "Love" Dove prototype when we recorded that last summer. The spruce top is thermally aged to make it sound vintage when it's brand new. Its rosewood bridge is carved down in a bat-wing style, like my original favorite Dove from the '70s.
It's got a cherry-sunburst finish, and the quality of the flamed-maple back and sides is triple A. Not to mention my personalized "Love" calligraphy. [laughs] The onboard L.R. Baggs pickup and preamp system sounds so freaking amazing that I don't need any processing. I send the signal straight to the P.A. with Tesla.
When I play a solo acoustic gig, I use the Fishman SA330x Performance Audio System. My sonic philosophy is to keep it as pure as possible: the sound of the guitar straight into a P.A.
What do you feel has changed about making music since you started, and what remains timeless?
What remains timeless to me is the song. I've been producing a young band lately, and I try to emphasize the importance of keeping it simple and writing quality songs. Take the Beatles: The studio and the gear were important, but people mostly remember them for their killer songs.
What does Dave Rude brings to the table compared to Tommy Skeoch?
Tommy brought tons of attitude to chunky rhythms and killer solos. Unfortunately, bad attitude doesn't work in a band. 99 percent of succeeding in life is attitude, and in a band it's really everything. Besides being an incredible guitar talent, Dave brings a work ethic you can depend on and a super-positive attitude that has enabled Tesla to survive.
Tesla's Five Man London Jam is out now on all formats, inc. Blu-Ray, via Hip-O.
All the latest guitar news, interviews, lessons, reviews, deals and more, direct to your inbox!
Jimmy Leslie has been Frets editor since 2016. See many Guitar Player- and Frets-related videos on his YouTube channel, and learn about his acoustic/electric rock group at spirithustler.com.