Erja Lyytinen on Influences, Conservatory Schooling and Digging Deeper Into Blues History
Finnish blues-rock phenom Erja Lyytinen walks us through her journey with the guitar, from music school to the stage.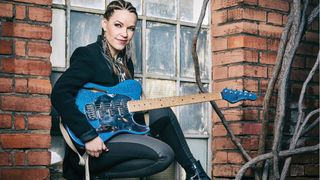 (Image credit: Dirk Eidner)
When I first met Finnish guitarist and vocalist Erja Lyytinen in 2005 while on tour in Europe, she struck me as a force to be reckoned with. She had worked tirelessly to become one of the most renowned blues-rock guitarists on the continent.
In 2002, she'd opened for Robert Plant and the following year was the only Finnish guitarist to perform at Puistoblues, the country's biggest blues festival, where she met Bonnie Raitt and Koko Taylor.
Since then, Erja has starred on MTV Finland's Tähdet, Tähdet music competition program, picked up the much-coveted European Guitarist of the Year award in 2017, performed in front of 80,000 people in her hometown of Helsinki on New Year's Eve 2017 and shared the stage with Carlos Santana in 2018, all in addition to headlining more than 100 shows across Europe per year.
Erja's latest album, Another World (Tuohi Records), includes collaborations with Sonny Landreth and Jennifer Batten.
When did you start playing guitar?
I started playing seriously around the age of 14. Both of my parents play: My mother is a bass player, and my father is a guitarist. We always had drums and a P.A. in the house, and we jammed. It was really good just to be in that environment.
Did you study guitar at school?
For two years at the conservatory, and at that time I started to have my own bands. You can take two instruments at school, and guitar has always been my first instrument. I've been singing all my life, but I always thought that I would have to focus on guitar playing.
Do you think that was because of your father's influence?
Yes, I think so, but I've always thought that I had to work really hard to become a good guitar player. I've always sung, but all day at school I would mostly practice guitar.
How does what you studied relate to what you play professionally?
I studied jazz, fusion, pop… Lots of different music styles. But the blues is my heart. I use all these sounds in my music. I'm a songwriter, and I sing, so I mix them all together.
Who are your musical influences?
When I started to practice guitar seriously, I was into Mike Stern and Scott Henderson. I also liked Robben Ford, because he was very bluesy. When I was studying at the conservatory, I heard Ray Charles sing "Georgia on my Mind," and I thought, "Wow that's what I want to do! It has feeling." Everyone else in school was really into jazz and scales and theory.
Then I put together a blues band and I was copying Koko Taylor's songs. She's a big influence too. I've also listened to rockabilly and recently started to listen to classic blues guitarists like Muddy Waters and Robert Johnson.
You play Dobro too. Do you play traditional blues?
I'm digging into music from the early '20s and '30s and listening to what those guitarists did. I saw a video of Son House performing "Death Letter Blues." The lyrics are so heavy. I'm really into writing songs and working on my lyrics too. It's a challenge but I like it.
Are there any women guitar players you've been influenced by?
Yes, Bonnie Raitt - her slide playing is so good. I like Rory Block and Susan Tedeschi too. I play slide as well and use different guitars with single-coil pickups. I love it. It's like singing.
All the latest guitar news, interviews, lessons, reviews, deals and more, direct to your inbox!