Eight Six-String Heroes Pay Tribute to the Life, Music and Legacy of Stevie Ray Vaughan
Eric Johnson, Steve Stevens, Steve Vai and more on their love of SRV.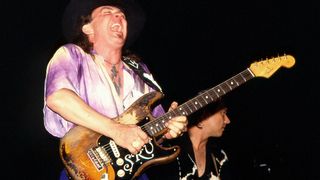 (Image credit: Robert Knight Archive/Redferns)
To mark the 30th anniversary of Stevie Ray Vaughan's death, Guitar Player ran a long-lost interview with SRV. The interview, conducted by Tom Nolan in 1988, found Vaughan in optimistic mood.
Vaughan talked about his recovery, about his influences and experiences playing blues in clubs when he was too young to get in, and of his enthusiasm for new projects.
To accompany the piece, we reached out to some of the guitar world's best players for their thoughts on Vaughan's playing, and their tributes reflect a talent that influenced generations of playing and changed how we think of blues guitar.
Eric Johnson
"Stevie was one of the rare guitarists who was a complete musician. Great guitar playing, excellent singing and great songs – the whole package. I remember when he was playing in Paul Ray and the Cobras many years ago, there would be the wonderful moment where Stevie took center stage and would start singing, 'Well, it's flooding down in Texas, all the telephone lines are down…' And the rest of his musical journey is beautiful history. I loved it, and he was a very kind human being."
Tommy Shaw (Styx)
"SRV was one of those originals who you couldn't watch for just a minute and then move on to something else. His genuine 'lost in it' presence when he played makes you want to go there too. His groove on 'Pride and Joy' is so universal and timeless.
"It's a great one to remember him by. He was a year younger than me and we never crossed paths, but I always admired his amazing talent, like everyone, left only to imagine the music he would have created."
Richie Kotzen
"Stevie Ray Vaughan was and still is a very important musical figure in my life, and played a huge role in my development as a guitarist. I remember when I was still living at my parents' house, my friend and I would sit for hours in our barn – which had two rooms that were converted into an eight-track recording studio – and jam over the chord changes to 'Lenny,' over and over and over.
"As a youngster, I was very much into soul and R&B music, as well as heavy metal, but I had very little knowledge about the blues. It was Stevie Ray Vaughan who introduced me to blues, and from there I discovered other artists, like Robert Johnson and Albert King. I was about 15 years old when my band had the privilege of being direct support to Jimmie Vaughan's band, the Fabulous Thunderbirds.
"I can remember the devastation I felt when I learned of Stevie's passing. It was unthinkable to me that someone that special, unique and important could be taken from us so soon. Legend, icon, guitar genius… Those words only scratch the surface in describing the impact and influence of Master Stevie Ray Vaughan."
Steve Stevens
"New York City in the early '80s was a hotbed of recording studios, producers and great musicians. We were all aware of what each other was doing. In 1983, Billy Idol, producer Keith Forsey, myself and our band were camped out at Electric Lady Studios, the house that Hendrix built.
"Somehow, word got to us that producer Nile Rodgers was over at the Power Station with David Bowie and a stunningly great guitarist named Stevie Ray Vaughan. That record was Let's Dance. As soon as the single was released that March, I knew there was a new and important guitarist in town.
"What was truly amazing about that record was that Stevie was able to keep his blues soul intact in a musical setting that was anything but. That is really a mark of greatness. His playing on that record is so supportive of the songs, yet still lets you know this guy was a monster player with deep roots. It was certainly no surprise that it launched him into a massive solo career of his own.
"'Crossfire' just might be my favorite SRV tune. The live interplay between his vocal and guitar really pulls you through the song. Obviously, the solos are ripping. Stevie, like Hendrix and all the legends of electric blues guitar, has that ability to hang on a note and, through vibrato and sheer will, bend it in and out of shape in an almost microtonal way.
"The end result is more like the human voice than a guitar. He was a bona fide real-deal American blues guitar player, complete with the pain and sorrow to make his every note sound like his life depended on it."
Joe Satriani
"I loved how Stevie would play melody, rhythm and lead guitar all at the same time. His timing was so good that he could not only pull it off but also put you at ease and make you feel exhilarated at the same time!
"He was brilliantly gifted in that way. It never sounded like he missed a note or played too many. With his own unique brilliance, his influences and his 10 fingers, he reinvented how to play blues on a Fender Stratocaster."
Steve Morse
"SRV's band was playing at a Texas club where the Dregs were also booked. Everybody loved his playing, and I admired his powerful left-hand bends and vibrato. Smooth as silk, but mighty at the same time.
"Years later, I was on my last legs from illness, too weak to travel, and SRV's bus driver and road manager offered me a spare bunk to lay on while they repositioned the bus from West Texas to Atlanta, where I made it home.
"Bottom line is that he was a straight-up great player who created a Hendrix-y blues style that is still imitated today. I never heard a bad solo from him, and every one was full of passion."
Steve Vai
"Stevie Ray was the gold standard for contemporary blues. He gave no excuses and did his thang in the most powerful of ways. God bless you, sir."
Kirk Hammett
"My first exposure to Stevie Ray Vaughan was probably in 1984. I remember that [former Metallica bassist] Cliff Burton and I were in a hotel room and the MTV video for 'Couldn't Stand the Weather' came on.
"At the time, I thought, Okay, just another blues player, but of course Cliff instantly jumped on it. He said, 'Wow, this guy is amazing!' and then pretty much ran out and bought the first couple of Stevie Ray Vaughan albums.
"I mean, hindsight is 20/20, but I didn't really pay much attention to him until he passed away. I still regret that. I regret I didn't pay attention while he was alive, because I would've tried to see him as much as possible.
"So, after he passed, someone gave me a VHS tape of one of his shows. I threw it into the VCR to give it a shot and was completely blown away. Up to that point, my only visual exposure to his playing had been the MTV video, but this was a whole concert. I couldn't believe what I was seeing. I had been so wrong about this guy.
"He was so damn special, so good, and I hadn't noticed. I was hit with that regret and felt really bad, wishing I could have been more exposed to his music and been able to understand what he was about when he was still here. Maybe even talked to him, played with him.
"After that concert tape, I became obsessed with Stevie Ray Vaughan. I tried to find all the live performances that had been filmed, and, of course, I bought all the albums and started learning the songs. From 1990 to 1996, he became probably one of the most listened-to guitar players of my life.
"What really blows me away is that Stevie Ray Vaughan is the complete package. By that, I mean someone who competently plays his instrument, understands music theory and melody, but also understands attitude, tone and performance.
"And all the subtleties! Stevie Ray Vaughan was all about subtleties. Those little things added up to such huge overall results. He could write, sing, perform and improvise. That's the complete package. You could tell he was playing from the heart 99 percent of the time.
"Even the songs he had to play every night were still being played with 100 percent conviction. And that conviction, where he was with his musicality – well, you don't just wake up and find yourself there. You get there by hard work.
"That means practicing and practicing and practicing. Playing with other musicians as much as you can. Pushing the limits and expanding your musical horizons. You can tell that Stevie Ray Vaughan did that. And that inspired me to do the same.
"The thing about Stevie Ray Vaughan is that he didn't just turn on his generation; he turned on a much younger generation as well. After those first few albums hit, all these young blues players started showing up, and that was an anomaly.
"Up to then, all of the 'new' blues players were in their 30s or 40s, but now you were getting young kids like Kenny Wayne Shepherd, Jonny Lang and John Mayer, who were breaking the model of what a blues player is supposed to be.
"They were young white kids who were totally committed to blues, and not just mixing it up with rock and roll. They were true to the genre, and that was a phenomenon that came about thanks to Stevie Ray Vaughan."
All the latest guitar news, interviews, lessons, reviews, deals and more, direct to your inbox!
Guitar Player is the world's most comprehensive, trusted and insightful guitar publication for passionate guitarists and active musicians of all ages. Guitar Player magazine is published 13 times a year in print and digital formats. The magazine was established in 1967 and is the world's oldest guitar magazine.
When "Guitar Player Staff" is credited as the author, it's usually because more than one author on the team has created the story.