"I Was 19 When I Left the Yardbirds. I Intended to Give Up Then, but John Mayall Offered Me a Job... I Needed the Bread, and Some Kind of Identity Too': Cream's Eric Clapton and Jack Bruce Discuss Balancing Blues, Jazz, and Volume in 1967 GP Interview
This classic from the GP archives is a window into rock's pioneering supergroup in their prime, and an intimate look at how they re-wrote the genre's rulebook.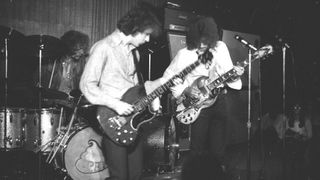 (Image credit: Michael Ochs Archives/Getty Images)
This article originally appeared in the June 1967 issue of Guitar Player.
Cream is just that – three jazz veterans skimmed off the top of British rock. Since their U.S. arrival a year ago, they have continued to groove growing audiences with one of the best avant-garde sounds in the electric scene.
Their sound has firm roots in the extemporaneous beat of 20-year-old drummer, Ginger Baker. But what has made Cream rise to the top is the mindbending styles of guitarists Eric Clapton and Jack Bruce. 22-year-old Eric, whose lead guitar unwinds on top of the staging provided by Jack and Ginger, has been called one of the best artists of his kind in the world – by such guitarists as Mike Bloomfield and Jerry Garcia.

Eric Clapton is a veteran of the original and much-lauded Yardbirds, and has worked with blues artist John Mayall.

"I was 19 when I left the Yardbirds. I intended to give up then. But John Mayall offered me a job and I took it because I needed the bread, and I needed some kind of identity too, because I was very down."

Eric played with Mayall for a year and a half and picked up the double cutaway Gibson he still uses today. He worked lead as well – as setting-up most of the group's new arrangements. Finishing that gig, he left for Greece.
"I was about 20 or 21 and I took some musicians with me. We had this big thing about working our way around the world as a band. We got to Greece and broke up."

Then, there was the time in Greece that Clapton had to escape from a club...

"I couldn't get my amp out of the club because they would have cut my hands off, so I just managed to get away with my guitar."

After that, Eric returned to the States and joined up again with Mayall, remaining with him until Cream was formed. Eric had started playing the guitar at 16, a Kay electric with an old Vox amp his parents had bought for him. He claims his "hanging-around" with guitarists was the reason for his dismissal from the art school near London that he was attending. He began by teaching himself to play folk-blues.

"I found out all I could about the different Delta styles – people like Robert Johnson and Charlie Patton. The musical thought which was going through the whole thing interested me, and it still does. I find it incredibly fascinating because there ware a lot of things which just can't be explained – like the inventiveness going around at that time."
Blues echoes throughout Eric's work, whether he is trying to play blues or not – but it is a different style of blues, Eric's own style.

"Everything I play is structurally blues," he says. "If you ask me to play baroque or Indian music, or something except blues, I wouldn't be able to. Whether or not I'm playing pure blues isn't the point, but whether or not I'm playing it good or bad is."
Since he began playing in Cream almost two years ago, Eric feels he has grown – that he has learned to expand on his sense of timing. As we have seen, he admits his sound is not strictly blues because Cream is unique, a mixture of the different styles each of the trio brought with him to the group.

"Our music cannot be categorized, because a lot of the material we play is not blues – it's another thing completely, probably brand new."
Jack Bruce is a quiet Scotsman who came to Cream from Manfred Mann. He plays bass and writes and sings most of the vocals, but he does not claim to be a "lyric writer or poet."
"When I write words for songs they are very simple thoughts that could come to anyone's mind – that normally occur to people."

When he was 13, Jack had studied both the bass and the cello, but circumstances allowed the cello to win out during his earlier years.
"There happened to be a bass in school which I played because it was there. It was a big bass and I was only about four feet tall, so I tried standing on chairs and things but it really didn't work.
"This teacher there was an old-time bass player and he was really great. He told me to go away and come back when I was big enough, so in the meantime I played cello. I started playing bass again after I left school and I picked it up in two days. It was a natural thing."
Charlie Mingus was one of the first musicians to influence Jack. "He was doing the same things I was, only he was doing them better," he says.
Jack played with several groups and found he would be better off with an electric, because as the music grew louder, his string bass was coming on weaker and weaker.
"I didn't know anything about amplification, so I just got these amplifiers and tied bits of wire from one to another in this big, huge pile. It was a fantastic sound, but it blew me up, so I decided I had to go and buy some real stuff."
This led Jack to get a Fender six-string bass and a Vox amp. Cream has two albums out on Atco labels, Fresh Cream, and more recently, Disraeli Gears. Jack claims things simply happened during their recording sessions.

"We don't really know what songs we're going to do when we go into the studio. I read an article in a magazine lately about how the Beatles recorded Baby You're A Rich Man, and the way they did it is almost exactly the same way we record. We get a good sound track and then fool around with it."
The group recorded Disraeli Gears in four days as sort of an "impromptu thing." Eric calls the album "kind of a cross between what we are like in the studio and what we're like on stage."
Both Jack Bruce and Eric Clapton record through the board, instead of using an open mic.
"I've been forced to go through the board," says Jack. "In England, they heard my sound and it was so unlike any bass sound that they thought it was wrong, and would take my amp away."

When recording they use only one amplifier apiece, a Marshall. But on stage they build a different sound, using two separate 100-watt amps, each amp running through two large cabinets, with each cabinet holding four twelve-inch speakers. They don't rely on feedback for intensity. Eric is opposed to feedback because he admits he has never been able to really control it.
"You see," he says. "our sound is like an old blues sound, but heavily amplified. The sound I've always wanted and like is the sound that all those people used on the very early records of Muddy Waters, you get it? It's that sound, only much louder. I think a lot of people are getting hung-up about getting mechanical sound. They're trying to invent ways of doing it to hide the fact they can't do it with their fingers."

So Cream makes music, their own kind of music. Blues, rock, jazz, call it what you want. Even they have difficulty defining it.

As Jack says, "You can talk about the things that happen when you're making music, but you can't talk about the music itself because it's a sound. It doesn't translate the same way words do."
All the latest guitar news, interviews, lessons, reviews, deals and more, direct to your inbox!
Guitar Player is the world's most comprehensive, trusted and insightful guitar publication for passionate guitarists and active musicians of all ages. Guitar Player magazine is published 13 times a year in print and digital formats. The magazine was established in 1967 and is the world's oldest guitar magazine.
When "Guitar Player Staff" is credited as the author, it's usually because more than one author on the team has created the story.