Bonnie Raitt: "I play the way I play, just like I sing the way that I sing. I'm not a schooled guitar player, and I can't say I'm getting appreciably better, but I know how to do what I do. It's the songs that change"
The legendary slide-master discusses how to find the right bandmates and collaborators, and reveals why the "loosey-goosey parts" of songs can be the most exciting, in this classic GP interview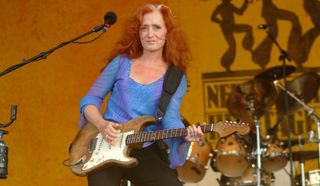 (Image credit: David Redfern/Redferns)
This interview originally appeared in the February 2006 issue of Guitar Player.
In a field dominated by men, men, and more men, Bonnie Raitt has managed to kick hellacious ass all over the brotherhood of guitar since her eponymous debut album unveiled her soulful slide playing and singing back in 1971.
Using the blues as a launching pad, Raitt has fearlessly explored folk, R&B, Americana, and world music styles, while accumulating – as a writer herself, an interpreter of cover tunes, and a discoverer of transcendent songwriters – a stunning collection of heartfelt musical poems of the human condition.
Raitt's restless creative spirit, devotion to activism (she co-founded Musicians for Safe Energy, and is a founding member of the Rhythm and Blues Foundation), and no-compromise demeanor shackled her to a long tenure as a critic's fave who didn't exactly set any album-sales records.
That all changed in 1989, when the Don Was-produced Nick of Time topped the U.S. charts, and captured a trio of Grammys (including Album of the Year). Not surprisingly, Raitt didn't play the uber-star game for long.
After 1991's Luck of the Draw and 1994's Longing in Their Hearts – which were also hits – Raitt went native, hiring on the sonically adventurous production team of Tchad Blake and Mitchell Froom to helm 1998's Fundamental.
"I approached Tchad and Mitchell because I loved the sounds Tchad was getting – these organic, funky sounds that use a lot of analog pedals mixed with Mitchell's arsenal of unbelievable keyboards," she says. "I also wanted to put myself in slightly uncomfortable situations, because I didn't want to end up sounding the same. Those guys have a healthy respect for things that have gone before, but in a very interesting way."
While the brilliant and edgy collaboration effectively tanked Raitt's gargantuan record sales, it inspired her creatively – to the point where she is still pushing the envelope, and still embracing Blake's sonic alchemism.
She took over the production gig herself for the first time in her career on her latest release, Souls Alike – Blake is credited as co-producer – proving once again that Raitt is one of America's uncompromising musical treasures.
What was your overall plan for tackling the production duties for Souls Alike?
"I'm the team leader, so I was driving, but being a woman and a bandleader can be a delicate thing. I may not be the most extraordinary musician in the room, and everybody in the band will have opinions about where the music should go. They know it's basically my record – and that they're collaborating with me to come up with the music I want to make – but I want to give them a lot of rope. I need to try different things on, you see, and until they give me different things to try, I can't tell what fits.
"I'm sure that if you talked to my band they'd say the process is a bit frustrating – 'Can you just let us play before you '86' it?' But I have a fast mind, and I can tell when things are going in a direction that might be fun for them, but isn't what I'm looking for. It's a living, organic process that demands a lot of diplomacy and subtlety.
"As the leader, you don't want to squash creativity, and you don't want to feel like you're being didactic. Basically, I think the trick to good production and arrangement is getting the right people in the room with the right material."
So how do you find the "right people"?
"I look at a player's musical vocabulary, but I also consider the kind of person they are. To me, you can't separate who someone is from the way he or she plays. It makes complete sense to me that Jon Cleary is so badass on the keyboards, and that he also reads Graham Greene.
"I look for soul, intelligence, funk, and the ability to handle an extraordinary range of music styles. By the time I bring somebody into the fold, I already know they can do the things I need them to. I know George [Marinelli, guitarist in Raitt's band] can do everything from Jimi Hendrix and Keith Richards to Richard Thompson, as well as being completely inventive in his own style."
Did you develop the song arrangements before you entered the studio?
"They are so not thought out! I sit down with the guitar in my lap, we start singing – perhaps we'll play a couple of R&B tunes – and I pick the key for the song. Then we just play together. Most of the time, I'm singing while I'm trying the song on, and we basically get the arrangement the same day we record it. It comes out of the players pretty much the way it's going to sound on the record."
In a Pro Tools world where tracks can be scrupulously arranged and rearranged to death, you've obviously decided to undertake somewhat of a loose, organic, and more immediate approach.
"Oh man, that reminds me of a joke. What did the Pro Tools engineer say to the band? 'That sucked. Come on in!' You know, I don't want everything perfect. I like accidents. The solo in Crooked Crown was that way. We happened to be recording a run-through on Pro Tools, and I was in a completely different key when I went to the solo. That was a happy accident, and we kept it.
"I learned that from Tchad and Mitchell, who don't fix things. I mean, you'd better be prepared when they turn that tape on, because they're going to say, 'Oh, no. You're not doing that again. It sounds great.' I'll fix stuff that's really out, but I've learned to love the first and second takes. We rarely play anything better the third time than we did the first time, and I don't like to belabor songs. If it's not happening, perhaps that means you're not supposed to do that song.
"Also, the things I love most in rock and roll are the loosey-goosey parts where the drummer is hitting it a little behind. It's that back-and-forth shuffle against the straight time that makes it sexy. I don't want to pass judgment on people who like quantized loops and stuff, but rock music without the 'and roll' is pretty Teutonic."
Although many players strive to forge a signature sound that hardly ever evolves, you seem to flourish when you're thrown a bit off balance.
"Someone put it best when they said, 'You can't change the noodle, but you can change the sauce.' I play the way I play, just like I sing the way that I sing. I'm not a schooled guitar player, and I can't say I'm getting appreciably better, but I know how to do what I do. It's the songs that change.
"For me to play slide guitar over the Zimbabwean groove of Hear Me Lord [from 2002's Silver Lining] is a blast. It's the context that makes it fresh for me. On Souls Alike, the most adventurous thing I did was run my guitar through an Amp Farm wah-wah loop for God Was in the Water.
"Taking risks is how I keep moving forward – that and being open to hearing things in a different way. Ultimately, I know there's a safety net, and that's the fact that I trust my ears and my instincts.
"I'll always try something different. That's how you grow, and you also don't want to be overly influenced by an inclination to dismiss something that's new. So, I may do something I'm not really into – out of respect for Tchad and the musicians – but if it's not working for me after a few days of letting it sit, then I'll go, 'We gave it a try, but this song is sucking.'"
Given the lock-step environment of today's record industry, taking chances with musical hybrids is pretty brave.
"Well, I don't care if I'm a star, and I don't care if I win another Grammy. If you truly don't care about commercial considerations, that's the most free you can be. This is why I really treasure having the validation of my fans. If I wanted to make records like Tom Waits makes, some of my fans would get it, and they'd dig my audaciousness. I mean, if you're digging it, your real fans are probably going to like it, too."
All the latest guitar news, interviews, lessons, reviews, deals and more, direct to your inbox!