Black Stone Cherry's Ben Wells and Chris Robertson on How to Stick the Landing on Their Hard Rock/Country Crossover Sound
'The Human Condition' finds the Kentucky stalwarts going all in with big hooks and songs that'll live long in the memory.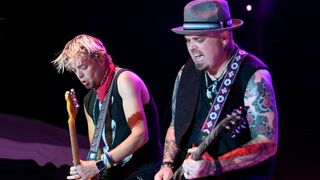 (Image credit: Stephen J. Cohen/Getty Images)
Black Stone Cherry are more than a band. They're practically a family. The American hard-rock quartet's members have been friends for more than 20 years and began playing music together when they were still at school in Edmonton, Kentucky.
They even have a familial connection with another area group, the Kentucky Headhunters; Drummer John Fred Young is the son of the Headhunters' rhythm guitarist, Richard Young.
Consisting of Young, bassist Jon Lawhon, lead guitarist and vocalist Chris Robertson, and rhythm guitarist Ben Wells, BSC have a unique take on the traditional southern rock sound, adding pulverizing downtuned riffs that have won them fans in the metal and hard-rock arenas, all while maintaining a roots feel that has helped them score airplay on mainstream country radio.
Their new album, The Human Condition (Mascot), builds on that reputation with a set of infectious songs that make good use of BSC's double-axe threat.
Robertson handles the majority of lead vocals and solos, while Wells plays a handful of solos but covers a multitude of parts. After many months off the road, the group is looking forward to returning to the road in 2021, with a year's worth of postponed shows now rebooked.
The new album sounds more commercial than your previous albums. There are a lot of memorable songs that sound like hit singles. Is that a deliberate move?
Ben Wells: The word commercial can have bad connotations, but ultimately we want to write songs that are memorable. We never want to write songs that are different just to be different. We would never want to generate something to fit a particular outlet, but we always want to write songs that are catchy and hooky.
BSC are very prolific. You put out albums on a regular basis and released the two Black to Blues EPs in 2017 and 2019. Why is it important to you to release new music in an age when albums are so hard to sell?
Chris Robertson: We spend a lot of time on the road, and releasing records gives us new music to play to keep things fresh for the fans, and for us. Besides, we're always coming up with new ideas for songs, so we need the outlet of a new release for that material.
Wells: And you can't stop making music if you're creative, but you may need to find different ways of doing it, which is something we've done. We try to be economical in terms of recording costs. We're lucky that Jon Lawhon, our bass player, built a great studio, and that's where we record. You don't need to pay $100,000 to a producer anymore.
There are a couple of very emotional songs on the album: "When Angels Learn to Fly" and "In Love With the Pain." They have the ability to appeal equally to a rock or country audience. Were you aware of that crossover potential when you were recording them?
Wells: Our tastes in music have always been pretty well balanced in terms of the styles we like to listen to and to play. But it's never calculated.
Robertson: I think we do have songs that can appeal across the board, but as Ben says, we've never tried to do that. I guess the many different things that influence us will always come out in our music.
The album has an exceptional cover of Electric Light Orchestra's "Don't Bring Me Down," with a hefty dose of ZZ Top swagger. How did that one come about?
Wells: Thanks! The ZZ Top reference is a huge compliment. It was already a perfectly written song, so all we had to do was put our stamp on it. Some of the vocals are in a pretty high register for us, but the vocal harmonies were so great on the original that we really wanted to recreate them.
Robertson: We thought we might do it as a B-side, but it turned out so well that we had to include it on the album. We're all big Jeff Lynne fans, and I just thought it would be a song we could bring something to.
Anything new for you guys on the gear front for this album?
Robertson: I still used a lot of PRS guitars on the album, and a Kemper for most of the amp sounds. I also played a couple of guitars made by Lucky Dog Guitar, which is a one-man business in Tennessee. The owner, Anthony Sims, builds everything himself from scratch. My effects included the Dos Fuzz by Analog Pedals, which produces an Octavia type of sound. It will be released soon as a signature model.
Wells: As usual, I mainly used a Les Paul, but I also played a Telecaster copy made by Nash, which is a great boutique guitar company. My main amp was a Peavey 5150.
It's noticeable that you resist the temptation to overplay. Is that a conscious attempt to keep the focus on the songs?
Robertson: When it comes time to do the solo, the temptation is to just let it rip and play something real badass, and there are times when I'll do that. I had some great advice from Greg Martin from the Kentucky Headhunters a long time ago, who told me that you should always be able to sing your guitar solos. That's something I've worked on. I try to play for the song as much as I can.
Wells: We could jam for hours, but that can get old. We always keep in mind that the song is the most important thing.
After playing together for 20 years, do you two instinctively know who will do what on a song?
Robertson: For the most part. I did all the solos, except for the first one on the ELO track and a couple of other songs. Ben does most of the overdubbed guitars and acoustics.
Wells: It's subconscious. We know each other's strengths. Chris might say he's not feeling a solo, so I'll do it. We don't have any issues with ego; we're trying to complement each other. With solos, we always wanted to switch things up like the Rolling Stones or even Lynyrd Skynyrd, who had three guitarists and they were all important players.
Who were your influences starting out?
Robertson: Hendrix, Clapton, the first three Skynyrd guitarists, ZZ Top, and – oddly enough – Eddie Van Halen, even though I don't sound anything like him. [laughs]
Wells: The two biggest things that inspired me were Elvis and Aerosmith. I love a lot of country music and I particularly love rockabilly. Rockabilly and chicken pickin' are what I like to work on when I'm practicing.
What's next for BSC? Are you planning another blues EP after the success of the last two?
Wells: The blues EPs were a great way to keep some new material out there in between our original albums. We might well do another EP, but not necessarily blues. Maybe rockabilly. [laughs] The point of the EPs is to show a different side of the band, so anything goes. We always like to shake things up in Black Stone Cherry.
Black Stone Cherry's new album, The Human Condition, is out now via Mascot.
All the latest guitar news, interviews, lessons, reviews, deals and more, direct to your inbox!
Mark is a freelance writer with particular expertise in the fields of '70s glam, punk, rockabilly and classic '50s rock and roll. He sings and plays guitar in his own musical project, Star Studded Sham, which has been described as sounding like the hits of T. Rex and Slade as played by Johnny Thunders. He had several indie hits with his band, Private Sector and has worked with a host of UK punk luminaries. Mark also presents themed radio shows for Generating Steam Heat. He has just completed his first novel, The Bulletproof Truth, and is currently working on the sequel.