Billy Gibbons: "We went to the second change, but Lightnin' was still in the first... Our bassist said, 'Lightnin', that's where the second change is supposed to be, isn't it?' Lightnin' said, 'Lightnin' change when Lightnin' want to change!'"
ZZ Top's main man and Johnny Winter recount their time backing Lightnin' Hopkins, where they quickly learned that to accompany the blues legend meant doing things his way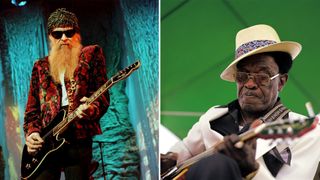 (Image credit: Patti Ouderkirk/WireImage, David Redfern/Redferns)
The following is an excerpt from Lightnin' Hopkins: Mojo Hands & Barrelhouse Boogies, a feature first published in the October 1997 issue of Guitar Player.
Lightnin' Hopkins was a supremely confident guitarist, keeping time with his left leg while swinging hard or traveling down-home. He often played a Gibson J-50 outfitted with a DeArmond soundhole pickup, and he also performed and recorded with a small Harmony flat-top and a Fender Stratocaster.
Resting his pinkie and ring finger on the face of his guitar, Lightnin' played bass and rhythm with his thumbpick while plucking solos with his bare index finger. He thrived on first-position shuffles, especially in the key of E with the fat A7 chord with the high G.
"One of the most distinctive elements of the Lightnin' sound is that turnaround in E," observes ZZ Top's Billy Gibbons.
"It's a signature lick that he did in just about every song he played. He'd come down from the B chord and roll across the top three strings in the last two bars. He'd pull the pick off those strings to get kind of a staccato effect, first hitting the little open-E string and then the 3rd fret on the B string and then the 4th fret of the G string. He would then resolve on the V chord after doing this roll. It's a way to immediately identify a Lightnin' Hopkins tune."
To accompany Hopkins meant doing things his way, as Gibbons quickly learned: "We were playing a traditional blues and we all went to the second change, but Lightnin' was still in the first change. He stopped and looked at us. Our bass player said, 'Well, Lightnin', that's where the second change is supposed to be, isn't it?' Lightnin' looked back and said, 'Lightnin' change when Lightnin' want to change.' And we knew – don't do that no more!"
"You had to know and feel Lightnin' and follow him," seconds Johnny Winter. "I guess he played a lot by himself, and he didn't worry about changes. It didn't hurt a damn thing, either. Lightnin' might not change on time all the time, but he was technically a damn good guitar player when he wanted to be. He could play his butt off, and he was always his own man.
"A long time ago Lightnin' was playing a local bar in Houston, and one of the frats came up and said, 'Do you mind playing something by John Lee Hooker?' And he said, 'I am Lightnin' Hopkins. I don't play nothin' else.'"
All the latest guitar news, interviews, lessons, reviews, deals and more, direct to your inbox!