Here's Why José Feliciano Is a Musical Melting Pot as Well as an Amazing American Story
A true "American" artist he filtered pop through Spanish Harlem roots on his 1968 debut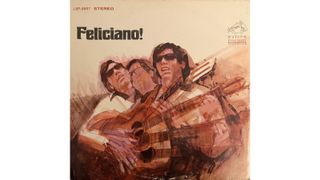 (Image credit: RCA Victor)
If you're like me, you might not think about José Feliciano very much. I knew his 1968 hit cover of the Doors' "Light My Fire." Every time I heard it while I was out and about, I would stop dead in my tracks and listen as it slipped into the Muzak of my errands.
That was the extent of my knowledge of him, until I bought his 1968 debut album, Feliciano!
Released on RCA when the guitarist was a mere 23 years old, Feliciano! includes both "Light My Fire" and his other early hit, a cover of "California Dreamin'."
The album spent 59 weeks on the Billboard 200 album chart and received a Grammy nomination for Album of the Year.
José himself won the Grammy for Best New Artist at the awards ceremony held in 1969. Now 77 years old, he still plays and performs, and occasionally releases albums.
Lucky us.
The fourth of 11 boys, Feliciano was born blind due to glaucoma. When he was five, his family moved from Puerto Rico to New York City's Spanish Harlem.
Soon afterward, young José showed an exceptional penchant for music. He would spend up to 14 hours a day practicing, while he studied classical guitar and tried to emulate artists as diverse as Segovia, Sam Cooke, Wes Montgomery and Ray Charles.
These influences are all evident on Feliciano!, and to my ears José Feliciano is a true "American" artist. After all, he has Puerto Rican origins, lived in Spanish Harlem and listened to American soul music, jazz and classical guitar.
He is a musical melting pot as well as an amazing American story. What are the chances a boy, born blind, in a family of 11, who emigrated from Puerto Rico to New York City would rise to the pinnacle of musical success?
Feliciano! has many great moments, including the previously mentioned hits, "Always Something There to Remind Me" and "Sunny," as well as two Beatles covers: "In My Life" and "Here, There and Everywhere," and they show the many aspects of his talents.
José's imaginative and deep interpretations and perfect re-harmonizations redefine the music as he makes the songs his own.
My favorite track is Tom Paxton's "The Last Thing on My Mind." This beautiful version is re-harmonized and has great understated guitar work shining brightly within every vein of the melody.
If I hear "The Last Thing on My Mind" once, I have to listen to it 10 times in a row. It's like potato chips to me: I can't stop at one listen.
For me, José Feliciano is one of those artists who could sing the phone book and keep me riveted and on the edge of my seat.
In 1968, José was invited to perform "The Star-Spangled Banner" at Tigers Stadium in Detroit, for Game 5 of the World Series. His uniquely soulful and heartfelt take on the national anthem caused outrage. Protests were raging against the Vietnam War, and some people thought his version was a desecration.
Years later, José would explain that he was simply trying to present his own personal, non-traditional performance to make people pay attention and give fresh thought to a familiar song they had perhaps heard countless times before.
But the backlash hurt José and damaged his career. DJs stopped playing his music, and some folks wanted him deported. He even thought about leaving the country. All of which is remarkable when you consider how the anthem has today become a show piece for artists to put their own spin on.
In 2010, the Tigers invited him back to sing "The Star-Spangled Banner" again and right a wrong. I encourage you to give a listen to his version from 1968 at the MLB channel on YouTube (below), and I hope you find it as lovely as I do.
José Feliciano could always find the beauty and truth in a song, a point that is made as well with every song on Feliciano!
All the latest guitar news, interviews, lessons, reviews, deals and more, direct to your inbox!
Jim Campilongo has 14 critically acclaimed instrumental records available on vinyl, CD and digital download here.