"Your solos are terrible!" How Todd Rundgren's harsh advice helped The Pursuit of Happiness' She's So Young become a power-pop smash
Moe Berg looks back to the birth of The Pursuit of Happiness' 1988 hit song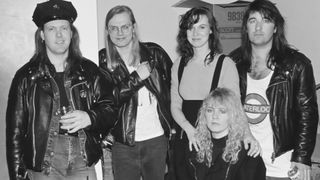 (Image credit: Jim Steinfeldt/Michael Ochs Archives/Getty Images)
In most places, Moe Berg isn't a household name, but in his homeland of Canada he's something of a national treasure. With his power-pop band the Pursuit of Happiness, the singer-songwriter and guitarist scored a number of ear-candy hits in the late '80s, such as the snappy yet wistful gem She's So Young, from the group's Todd Rundgren–produced debut album, Love Junk.
"In some of my earliest songs, like She's So Young and I'm an Adult Now, I was so preoccupied with age," Berg says. "I hear them now and I'm like, Who was that guy? I was young when I wrote them, but I felt a sense of impending doom. She's So Young sounds very carefree, but it's tinged with melancholy."
"HEY MOE, IT'S TODD"
Berg hadn't yet formed TPOH when the idea for She's So Young hit him in 1985. "I saw these teenaged girls on the street, and they exuded this air of confidence," he recalls. "I felt jealous of them because they seemed to have everything figured out. I ran home, picked up my guitar and wrote as fast as I could. I used these odd chords — major and minor 7ths with different bass notes. I borrowed that from listening to Todd Rundgren and Joni Mitchell. To my ears, that gave the song a poignant Beach Boys feel."
For a while, the guitarist performed the song solo at open-mic nights. Once he put the five-piece TPOH together, the band played some shows before issuing an indie single consisting of I'm an Adult Now with She's So Young as its B-side.
Thanks to a super-cheap video that caught fire on Canada's MuchMusic, the A-side became a fluke hit, winning the band a deal with Chrysalis Records. Todd Rundgren was Berg's favorite producer, and the guitarist half-jokingly told label execs that he wanted his idol to helm the band's debut. To his amazement, he soon received a phone call at a sound check: "Hey Moe, it's Todd Rundgren. I want to produce your record." "I couldn't believe it," Berg says. "I thought I was dreaming."

"YOUR SOLOS ARE TERRIBLE"
In Berg's view, Rundgren didn't impose his own stamp on the band's songs as much as point out where things needed work. "Todd's basic approach during pre-production was, 'This isn't good. Make it good,'" he says. Berg had already made one change to "She's So Young." The original recording opened with the infectious chorus, but since then he'd decided to begin with the first verse instead. Rundgren agreed. "Todd said, 'The chorus at the front is way too much of a good thing.' "
However, there was one touchy point concerning Berg's guitar skills. "Todd didn't
pull any punches," Berg recalls. "He said, 'Your solos are terrible. You've really got to practice.' I was crushed, but I worked at it in the time that I had. I wrote solos that more or less followed the chords."
Recording at Rundgren's Utopia Studios in Bearsville, New York, Berg used his 1981 Squier Telecaster and a Marshall combo for rhythm work, but he borrowed one of the producer's Stratocasters for his solos. "Our other guitarist, Kris Abbot, played some solos, but I did the one on She's So Young, " he says. "It only took one or two passes. Todd threw in all kinds of effects — distortion, chorus and harmonizers."
CENSORSHIP PROBLEMS
Love Junk was completed in 10 days, and the re-recordings of I'm an Adult Now and She's So Young scored high on Canadian, U.S. and U.K. alternative charts; in Canada, the album went both Gold and Platinum. Berg notes that She's So Young would have fared even better in Britain had its video not run into censorship problems. "We had these happy faces superimposed in places," he says. "Back then, happy faces were associated with the drug Ecstasy, so the U.K. wouldn't play the clip. We were caught off guard by that."
Although TPOH never technically broke up, they ceased full-time activity in 1996 and regroup only for occasional tours, where She's So Young remains a staple in the band's live set. "People connect with the song right away," Berg says. "We start playing it and we see a change in the audience. I would never do a show without playing it."
All the latest guitar news, interviews, lessons, reviews, deals and more, direct to your inbox!
Joe is a freelance journalist who has, over the past few decades, interviewed hundreds of guitarists for Guitar World, Guitar Player, MusicRadar and Classic Rock. He is also a former editor of Guitar World, contributing writer for Guitar Aficionado and VP of A&R for Island Records. He's an enthusiastic guitarist, but he's nowhere near the likes of the people he interviews. Surprisingly, his skills are more suited to the drums. If you need a drummer for your Beatles tribute band, look him up.