Way Huge Unveils New Joe Bonamassa Signature Penny Saver Royale Modulation & Overdrive Pedal
The stompbox merges Bonamassa's two favorite Way Huge pedals into a single enclosure.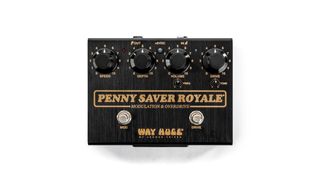 (Image credit: Dunlop)
Way Huge has teamed up with Joe Bonamassa to create the new Penny Saver Royale modulation & overdrive pedal.
At heart, the stylish pedal combines the blues guitar star's two favorite Way Huge pedals – the Bonamassa-designed Overrated Special overdrive and the Blue Hippo chorus – into a single enclosure.
The left side of the pedal features the Blue Hippo chorus' primary mode, with speed and depth knobs and a delay that's been tailored specifically to Bonamassa's taste.
On the right side, the Overrated Special offers up serious grit, controlled by drive, tone, volume, and frequency knobs, with the frequency knob in particular perfect for plating up hard-hitting low-mid frequencies.
The two sides can be put into play independently, or used simultaneously for textures that Way Huge describes as "thick and soupy."
"Combining the Overrated Special Overdrive and the Blue Hippo Chorus into one unit, with a single power source, has changed the relationship between chorus and overdrive," Bonamassa said.
"They tend to melt more into the tone giving it a very organic yet unique sound that was not there with the two singular units by themselves. Plus you save a penny or two with the purchase. Everyone wins!"
The Way Huge Penny Saver Royale Modulation and Overdrive pedal is available now for $299.
You can grab one over at jbonamassa.com.
Get the latest news, reviews and product advice straight to your inbox.
Thank you for signing up to GuitarPlayer. You will receive a verification email shortly.
There was a problem. Please refresh the page and try again.