Strymon Debuts New Compadre Compressor & Boost Pedal
The impressive-looking stompbox is seemingly a successor to the company's beloved, recently discontinued OB.1.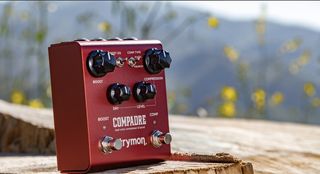 (Image credit: Strymon)
Having recently discontinued its beloved OB.1 compressor/boost pedal, Strymon has unveiled what seems to be its logical successor, the Compadre compressor/boost pedal.
The Compadre is well-stocked with two analog compression circuits and two analog boost circuits. The boost and compression effects can be used either together or independently from one another.
The pedal's two compression circuits are Studio - which gives users more smooth and transparent sounds modeled after those found in vintage studio rack units - and Squeeze - which gives users heavier compression with tons of sustain.
The pedal's boost circuits are a clean boost and a dirty boost with soft clipping. The pedal's selectable boost EQ allows users to select between a treble boost, a midrange boost or a flat mode.
Under the hood, the Compadre features a Class A JFET input circuit. Elsewhere, users can connect an expression pedal to the Compadre to add volume control, or add an optional MiniSwitch or MultiSwitch Plus to store or recall settings.
Buyers can also access up to 300 preset locations by integrating the pedal into a MIDI pedalboard using Strymon's MIDI EXP Cable.
The Strymon Compadre compressor and boost pedal will be available starting May 11 for $299.
For more info on the pedal, head on over to strymon.net.
Get the latest news, reviews and product advice straight to your inbox.
Thank you for signing up to TO_UPDATE_FROM_FLEXI_UI. You will receive a verification email shortly.
There was a problem. Please refresh the page and try again.