Someone is Selling a Swarovski-Encrusted Gibson Zakk Wylde Les Paul Custom Bullseye on Reverb
The unplayed 2009 model is encrusted with 4,000 4mm crystals, and has 24-carat gold hardware.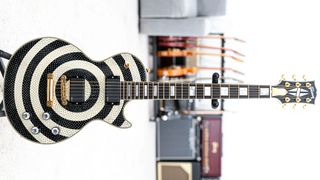 (Image credit: Reverb.com)
Looking to add some world-class bling to your rig? Look no further than this none-more-flashy 2009 Gibson Zakk Wylde Les Paul Custom Bullseye that just popped up for sale on Reverb.com.
This particular Wylde signature Les Paul - which remains unplayed, according to its listing - is encrusted with 4,000 of "the world's finest" Swarovski 4mm crystals, and features hardware that's been re-plated with a coat of 24-carat gold.
According to the listing, the guitar was purchased new by its vendor, and then customized for a fashion event. The crystal and gold handiwork was done by U.K.-based luthiers Kim Webber and Graham Baker.
Unsurprisingly, given its decidedly flashy touches, this Les Paul doesn't come cheap. It's currently valued at $11,429.86.
For those who may possess a world-class collection of Zakk Wylde signature gear already though, this guitar is probably the perfect addition!
To view the full listing, head on over to reverb.com.
Get the latest news, reviews and product advice straight to your inbox.
Thank you for signing up to TO_UPDATE_FROM_FLEXI_UI. You will receive a verification email shortly.
There was a problem. Please refresh the page and try again.