An Enormous Collection of Zakk Wylde Signature Gear is Up for Sale on eBay
The whole lot - featuring two dozen Wylde Audio and Gibson guitars, a Marshall stack and much more - is valued at over $110,000.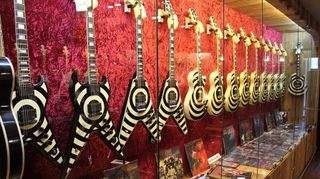 (Image credit: eBay/Hitchhikermusic)
An eBay user going under the name Hitchhiker Music has listed what they're calling the "world's largest Zakk Wylde signature collection."
Given it's mind-boggling size and scope, we don't really have any reason to doubt the claim. 
The lot features a total of 24 guitars: Seven Gibson Les Paul Zakk Wylde Bullseye models, five Wylde Audio guitars, three Gibson Bullseye ZV models, three Les Paul Custom custom painted models, two Les Paul Vertigo models, an aged Gibson Les Paul Zakk Wylde Bullseye, a Les Paul Bullseye Camoa, a Les Paul Rough Top and a Bullseye Flying V.
Interested? Well, just for your trouble, Hitchhiker Music is throwing in a Marshall JCM 800 Zakk Wylde Signature head and cabinet on top.
According to the seller, the gear comes from the Zakk Guitar Gallery, an official Gibson dealer in South Korea. 
The lot - which also features 18 hardshell cases, six gig bags and Wylde-branded leather jackets, t-shirts, DVDs, CDs, set lists, photos and more - comes in at a cool $110,800. Buyers can't acquire any of the items on their own - the lot will only be sold in its totality. 
Shipping, the cost and logistics of which make us tremble, is free, if you fork out for the full collection.
To check out the full listing, head on over to ebay.com.
Get the latest news, reviews and product advice straight to your inbox.
Thank you for signing up to GuitarPlayer. You will receive a verification email shortly.
There was a problem. Please refresh the page and try again.