Mammoth WVH Premiere New Song, "Feel"
The hard-rockin' tune is the fifth single we've heard off of the self-titled debut from Wolfgang Van Halen's solo project.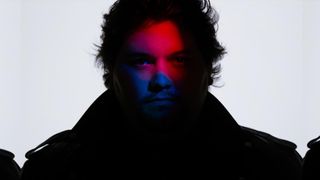 (Image credit: Travis Shinn)
Wolfgang Van Halen has already premiered four songs from the self-titled debut album of his solo project, Mammoth WVH.
First, there's was the heartfelt Eddie Van Halen tribute, "Distance," followed by "You're to Blame," and subsequently "Don't Back Down" and "Think It Over."
Now, Wolfgang has released a fifth song from Mammoth WVH, "Feel." You can give it a spin below.
Mammoth WVH features Wolfgang on vocals and every instrument, though for live performances he's joined by guitarists Frank Sidoris and Jon Jourdan, bassist Ronnie Ficarro, and drummer Garrett Whitlock.
Set for a June 11 release via EX1 Records/Explorer1 Music Group, Mammoth WVH is available for pre-order now in a number of formats: including digital, autographed CD, exclusive color vinyl, and more. You can check out its cover art and track list below.
To preorder the album, step right this way.
Mammoth WVH – Mammoth WVH:
1. Mr. Ed
2. Horribly Right
3. Epiphany
4. Don't Back Down
5. Resolve
6. You'll Be the One
7. Mammoth
8. Circles
9. The Big Picture
10. Think It Over
11. You're to Blame
12. Feel
13. Stone
14. Distance
Get the latest news, reviews and product advice straight to your inbox.
Thank you for signing up to GuitarPlayer. You will receive a verification email shortly.
There was a problem. Please refresh the page and try again.