Advertisement Feature
Looking to Heat Up Your Summer? Head to the Gibson Garage, Nashville's Hottest New Guitar Destination
400 guitars, a hands-on custom shop and an aging lab are just some of the incredible highlights to be found at Gibson's 8,000 square-foot extravaganza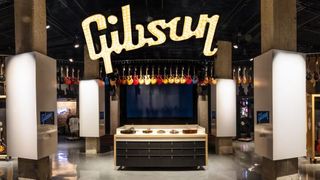 (Image credit: Gibson)
The Gibson Garage opened its doors on June 9 with a star-studded concert, but the real fireworks are happening each and every day at the space.
The 8,000-square-foot venue, situated at the Cummins Station on 209 10th Avenue South in Nashville, has been dubbed "the ultimate guitar experience," and that it is. But it's also so much more.
Indeed, whether you're a guitar master or six-string novice, or just a music fan who has never picked up a Les Paul or SG, there's something for you at the Garage.
And what better time to check it out than summertime? Cancel those Disneyland plans and book a one-way trip to Nashville. But beware: Music City just got a little bit hotter.
To wrap our heads around just some of the many incredible offerings on hand at the Garage, Guitar World sat down with Gibson Director of Brand Experience Mark Agnesi, who was instrumental in developing and designing the Gibson Garage and was only too happy to take us on a virtual tour of the space.
Sit back, relax and step into the Garage.
Gibsons and Epiphones and Kramers, oh my!
The heart of the Gibson Garage is, of course, guitars. And the space has a whole lot of 'em – every current model of Gibson, Epiphone and Kramer, all under one roof, to be exact.
"At any given time there's 400 guitars available to be picked up and played," Agnesi says. "There's a conveyor belt that goes around the top of the space, which has about 200 guitars on it. And then there's about 200 more that are easily accessible and that you can pick up and play. Basically, one of every model in one finish is out [on the floor], and then all the other colors are kind of floating around the room.
The goal, Agnesi says, is to provide the ultimate hands-on experience. "We really wanted it to be a place where, if you've been staying up all night and staring at guitars on our website, you can come in and actually play them, compare them to other models you've been looking at and find the perfect instrument for you. And then you can take it home."
Stars' guitars
In addition to more Les Pauls, SGs and 335s than you can imagine, the Gibson Garage also houses a separate area stocked with the company's incredible range of signature artist models.
"We have all our current artist models on display," Agnesi says, "from the Slash guitars to the new Jimi Hendrix models, the Kirk Douglas SG to the Marcus King ES-345. They're all here."
Or, at least, they mostly are. "We've been selling out of most of them fairly quickly," Agnesi admits.
Customer customization
If, by chance, you've managed to try out all 400 guitars on site and still haven't found the perfect match? Step into the Custom Shop room, which, Agnesi says, "is designed to be a full-on made-to-measure bar."
And when Agnesi says full-on, he means full-on.
"Obviously if you want to design, say, your dream Les Paul, it all starts with the wood," he says. "And customers have the choice of 54 different maple tops that they can pick from in the store, and that'll be the top on their guitar. It's really the only customer experience in the world where you can do that."
And you can go further: "From there you can say, 'What does a '57 neck feel like in comparison to a '59 neck?' And all the necks are there for you to try out. You can put your hands on everything – all your knobs and hardware, tuners, plastics, it can all be picked out."
Aged to perfection
In addition to making sure your custom guitar has amazing tone and playability, you'll also want it to show off killer looks. And for that, take a few steps over to the Murphy Lab, headed up by famed Master Artisan Tom Murphy, where you can have your guitar aged using the latest and most sophisticated technology, science and tools.
"You can decide, do I want a high gloss finish guitar? Do I want a VOS? Do I want ultra-light, light, heavy, or ultra-heavy aging? It really gives you a chance to not only see the finish, but also to feel it, which I find really important," Agnesi says.
"And then you can also ask, 'Does this neck have the correct broken-in feel to me?' 'Is that the feel I even want?' You can put your hands on everything and decide what's right for you. And then we write it all up, send the top and the spec sheet down the street to the Custom Shop [factory] and they build you your dream guitar. It's a really, really cool experience."
Boogie with Mesa and KRK
Gibson recently acquired Mesa/Boogie, and the joining of two of the music world's most influential brands is represented at the Garage in the Mesa/Boogie amp room.
"You have, basically, one of everything from Mesa/Boogie's lineup in there," Agnesi says. "You can plug in everything and really hear what the amps can do. And all the amps have Mesa/Boogie CabClones, so you can put on headphones, turn up as loud as you want and go to town without everybody else in the space having to hear it, too."
And if you're in the market for some high-quality studio monitors? Head over to the KRK Systems area. "We have a small home studio set up," Agnesi says, "so people can come in and actually hear these monitors side by side. You can hear the similarities and the differences and decide what's best for you."
Get into the Gibson App
If you're one of the few who have yet to check out the incredible Gibson App, we suggest you download it stat.
Or, just pop into the Garage and try it out there.
"You can take an augmented-reality virtual guitar lesson while you're looking around," Agnesi says. "It's a great way for people who don't even play guitar to get started. Say a kid is in the Garage looking for his dream guitar, and he's with his mom, who has never picked up an instrument. She can come in and start learning on the spot through augmented reality, which is pretty cool. So there's really something for everyone."
History in the making
Of course, there's more to the Garage than just playing guitars. In the historical exhibit area you can get up close with, say, the very first instrument ever built by Orville Gibson, a ca. 1894 "10-string mandolin/guitar hybrid instrument," as well as the last mandolin he ever built, in 1906.
"When you stare at those two side-by-side, it's pretty inspiring to see how far he came over the course of just 12 years from a plain, semi-utility kind of instrument to a highly ornate, intricately carved and inlaid instrument with all the bells and whistles," Agnesi says.
Agnesi adds that an upcoming exhibit will focus on the 60th anniversary of the SG, with "original examples of '61 Les Paul SG Standards, Customs, Juniors, Specials, all the different models, and original blueprints and Les Paul and Mary Ford ads."
Also slated for presentation are Gibson instruments that have appeared on the silver screen, including Bradley Cooper's acoustic from A Star is Born. And there will be bursts – lots of bursts. "You'll be able to get six inches away from Pearly Gates or from Greeny or from one of Joe [Bonamassa]'s bursts. We want to give people a chance to get up close and personal with some of the guitars that helped make their favorite records."
As Agnesi puts it, "We didn't want the Gibson Garage to be an intimidating place where only the guitar aficionados would know what's going on. So it's about more than just the guitars."
Indeed, whatever it is you're looking for, you can find it at the Gibson Garage. "We designed it so there wouldn't be a single square foot of wasted space," Agnesi says. "And I think we nailed it. When you walk into the Gibson Garage, no matter where you go or where you look, there's so much cool stuff to check out."
To check it out for yourself, head to Gibson.
All the latest guitar news, interviews, lessons, reviews, deals and more, direct to your inbox!
Guitar Player is the world's most comprehensive, trusted and insightful guitar publication for passionate guitarists and active musicians of all ages. Guitar Player magazine is published 13 times a year in print and digital formats. The magazine was established in 1967 and is the world's oldest guitar magazine.
When "Guitar Player Staff" is credited as the author, it's usually because more than one author on the team has created the story.