Line 6 Debuts New "Stomptrooper White" HX Stomp
Love this best-selling amp modeler but not its usual jet-black looks? Line 6's got you covered!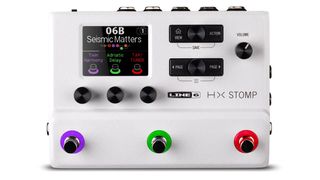 (Image credit: Line 6)
Are you a fan of the Line 6 HX Stomp, and its incredible multitude of effects and features, but not its jet-black looks? Line 6 has got you covered.
The brand recently unveiled a new version of the HX Stomp, finished in "Stomptrooper White." 
Aside from its looks, this version of the HX Stomp is the same as its darker counterpart, with 300+ effects and amps, 126 presets, four-cable amp integration and a USB recording output.
The Line 6 HX Stomp in Stormptrooper White is available now for $649.
For more info on the unique HX Stomp, stop by line6.com.
Get the latest news, reviews and product advice straight to your inbox.
Thank you for signing up to GuitarPlayer. You will receive a verification email shortly.
There was a problem. Please refresh the page and try again.