Lindsey Buckingham Announces First New Solo Album in 10 Years
The Fleetwood Mac legend's new, self-titled solo offering will be out in September. Check out its first single, "I Don't Mind."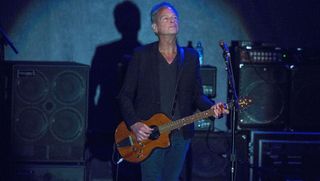 (Image credit: Daniel Knighton/Getty Images)
Lindsey Buckingham has announced a new, self-titled solo album, his first solo effort in a decade.
Written, produced, and recorded by Buckingham at his home studio in Los Angeles, the album is set for a September 17 release via Reprise. You can preorder the album right here.
You can also take the album's first single, "I Don't Mind," for a spin below.
"'I Don't Mind,' like many of the songs on my new album, is about the challenges couples face in long-term relationships," Buckingham said of the song in a statement.
"Over time, two people inevitably find the need to augment their initial dynamic with one of flexibility, an acceptance of each others' flaws, and a willingness to continually work on issues; it is the essence of a good long term relationship. This song celebrates that spirit and discipline."
The album is the first new material from Buckingham since his acrimonious departure from Fleetwood Mac in 2018, and a life-saving open-heart surgery in 2019.
For more on Buckingham and his music, stop by lindseybuckingham.com.
Lindsey Buckingham – Lindsey Buckingham:
1. Scream
2. I Don't Mind
3. On The Wrong Side
4. Swan Song
5. Blind Love
6. Time
7. Blue Light
8. Power Down
9. Santa Rosa
10. Dancing
Get the latest news, reviews and product advice straight to your inbox.
Thank you for signing up to The Pick. You will receive a verification email shortly.
There was a problem. Please refresh the page and try again.