Joe Satriani Launches "Club Joe Streaming Sessions" Live Stream Series
On the first episode, Satriani will go in-depth on his fourth album, 1992's 'The Extremist.'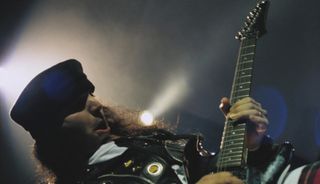 (Image credit: Gary Malerba/Corbis via Getty Images)
Joe Satriani has announced the launch of a new live stream series, "Club Joe Streaming Sessions."
The first episode of the series, which will air today, May 4, at 11 a.m PT, will find Satriani revisiting the making of his 1992 album, The Extremist, and discussing what made that album in particular so special for him. 
Recorded in Los Angeles with producer Andy Johns and the Bissonnette brothers, the album - which features Satch favorites "Summer Song" and "Cryin'" - was one of the guitar legend's most commercially successful efforts, and remains one of his most beloved overall. 
Satriani will be answering select fan questions about the album on the stream, which will be broadcast live on Facebook, YouTube, Twitch and Twitter. 
To learn more about the series, and to watch the first episode, head on over to joesatriani.com.
Get the latest news, reviews and product advice straight to your inbox.
Thank you for signing up to TO_UPDATE_FROM_FLEXI_UI. You will receive a verification email shortly.
There was a problem. Please refresh the page and try again.