GP Presents Leo Kottke, July 22 & 23 in Berkeley, CA – Win Tickets
The acoustic icon is set to play a pair of shows at the Freight & Salvage this weekend.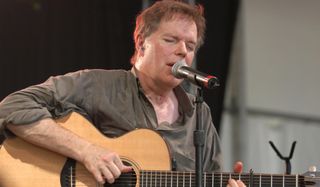 (Image credit: Jeff Kravitz/FilmMagic, Inc)
There's no one quite like Leo Kottke. The GP Hall of Famer truly set the standard for the modern acoustic icon.
When acoustic guitar aficionados discuss elite players, Kottke's name always comes up, as it did when GP delved deeply into the subject for the August 2017 acoustic special issue. Cover artist Tommy Emmanuel said, "I remember when GP had a poll for the readers' favorite acoustic albums of all time. Of course, Leo Kottke's 6- and 12-String Guitar came in at number one."
It's been more than 50 years since the improbable troubadour hero dropped the sound heard around the world on mentor John Fahey's Takoma label, and it still resonates today. Standards such as "Vaseline Machine Gun" and "Crow River Waltz" top his song playlists on streaming platforms, and remain setlist staples.
Kottke's most recent release was 2020's Noon, which reunited him with Phish bassist Mike Gordon for a second duo effort. Read the Frets feature focused on that pairing here.
Learn how Kottke works to get his live tone right each night by reading Frets editor Jimmy Leslie's eye-witness account from a recent show.
Kottke's stage banter is arguably as instrumental to his act as his fingerpicking prowess, and his singular storytelling makes each show a hilariously unique experience. Kottke has two "jobs" scheduled this Saturday and Sunday at the legendary Freight & Salvage in Berkeley, California, where Kottke will play music spanning his storied career.
Each show will undoubtedly be different. Both will certainly have unforgettable highlights. GP Presents will be on site Sunday with free magazines and Martin strings. Tickets will sell out any minute. Secure your seats now.
Win Tickets
For a chance to win a pair of tickets to GP Presents Leo Kottke in Berkeley, send an email to gp@jimmyleslie.com with "Kottke" in the subject and simply include a sentence about yourself and why you want to go.
Phone contact is greatly appreciated for confirmation.
Winner must provide their own transportation to the Freight & Salvage in Berkeley, California, and have their own accommodations in the Bay Area.
Best of luck!
Event Details
Sunday July 23 – 6pm doors, 7pm show; All Ages
Freight & Salvage – 2020 Addison Street, Berkeley, California 94704
Free GP magazines, Martin strings
All the latest guitar news, interviews, lessons, reviews, deals and more, direct to your inbox!
Jimmy Leslie has been Frets editor since 2016. See many Guitar Player- and Frets-related videos on his YouTube channel, and learn about his acoustic/electric rock group at spirithustler.com.