Gibson Launches Worldwide Virtual Guitar Tech Service
The free, fully interactive service will match players with a professional Gibson tech in real-time for assistance with a variety of basic tune-up and maintenance tasks.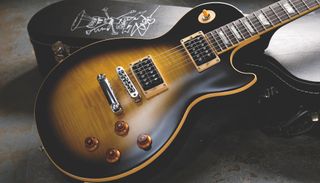 (Image credit: Future)
In light of the coronavirus pandemic, and the complete shutdown of virtually all the world's guitar and music stores because of it, Gibson has launched a new, free virtual guitar tech service.
With the service, Gibson, Epiphone, Kramer and Steinberger electric or acoustic guitar, banjo, mandolin or electric bass players can get matched in real-time with a professional Gibson tech, who can then assist them with a number of basic tune-up and maintenance tasks.
To use the service, players can first go to gibson.com and schedule a 30-minute, one-on-one consultation call with a tech. On this first call, Gibson says, the topics will revolve around the instrument type, its condition, any issues users might be experiencing and what type of services are needed.
Callers will also be asked about their playing style and comfort level with the instrument, before being given a list of the basic tools and supplies needed to successfully perform the maintenance or tune-up tasks required.
After this introductory call, players can then schedule a 60-minute Basic Guitar Tune Up Service with a tech, where the tech will guide users step-by-step through the process of servicing their instrument.
According to Gibson, the virtual guitar tech service can help teach players how to successfully remove old strings, clean their instrument, condition the fretboard, install new strings and tune their instrument. More advanced tasks such as adjusting a truss rod, pickup height, action and intonation are available upon consultation. 
If a user's instrument needs more extensive repairs, the technician will provide counsel on professional services.
To use the service, players will need to download Zoom.
For more info on the service, and to schedule an appointment of your own, mosey on over to gibson.com.
Get the latest news, reviews and product advice straight to your inbox.
Thank you for signing up to TO_UPDATE_FROM_FLEXI_UI. You will receive a verification email shortly.
There was a problem. Please refresh the page and try again.