Fender Japan Unveils New Indigo Dye Stratocaster and Telecaster
The visual effect on these unique Fenders is intended to evoke denim clothing.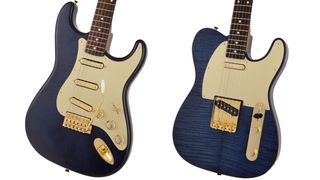 (Image credit: Fender Japan)
You can always count on Fender Japan to think outside the box (remember the company's anime-inspired Evangelion Asuka Telecaster from a couple months ago?) and its latest creations, the Indigo Dye Stratocaster and Telecaster, certainly don't disappoint on that front.
Inspired by the traditional Japanese art of indigo dyeing, these highly-limited custom instruments were dipped into jars of indigo dye over a dozen times, coating their finishes in a distinct variety of blue.
Otherwise, the guitars feature alder bodies, quilt maple tops, roasted maple necks with rosewood fretboards and gold-plated parts and pickups.
On the sonic front, the Strat features a trio of Lipstick single coils while the Tele packs two Vintage Style Tele singles.
Only 15 of the Fender Japan Indigo Dye Stratocasters and Telecasters will be produced, with each ringing up at ¥400,000 (around $3,800). The models are only available in Japan.
For more info on the guitars, stop by fender.com (you'll most likely have to change your region to Japan to view them once you're there).
Get the latest news, reviews and product advice straight to your inbox.
Thank you for signing up to GuitarPlayer. You will receive a verification email shortly.
There was a problem. Please refresh the page and try again.