Dunlop Adds Auto Return to Cry Baby Mini 535Q Wah
This compact, newly-updated mini-wah includes four voice-shaping controls.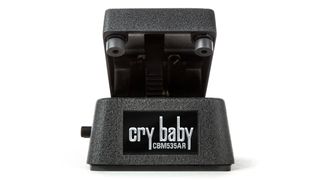 (Image credit: Dunlop)
Dunlop has added Auto Return to its hugely popular Cry Baby Mini 535Q wah pedal.
This new Cry Baby mini, the CBM535AR, is outfitted with four controls, first among them a Range Selector that lets you choose from four sweep ranges, which will take you from "warm and vintage-inspired to modern and aggressive."
A Q control allows users to shape the response of the wah effect from a narrow bandpass that emphasizes higher end harmonics, to a wide bandpass that emphasizes lower end harmonics.
The pedal's Volume knob and Boost switch allow users to bump their Cry Baby signal straight to the front of the mix, while an LED lets you know whether or not the boost is engaged.
The pedal's marquee feature, Auto Return, lets you "add some of that magical Cry Baby expression wherever you need it." To do this, push down on the toe of the pedal to engage the effect and back off to disengage it.
There are also controls for fine-tuning the wah voicing and filter.
The Dunlop Cry Baby Mini 535Q wah pedal with Auto Return is available now for $149.99.
For more info on the pedal, stop on by jimdunlop.com.
Get the latest news, reviews and product advice straight to your inbox.
Thank you for signing up to GuitarPlayer. You will receive a verification email shortly.
There was a problem. Please refresh the page and try again.