Brian May: "There is a Chance" Tony Iommi Collaboration Will be Released
The two have long hinted at the existence of a treasure trove of material. Will it soon see the light of day?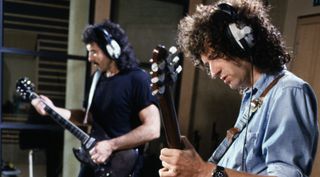 (Image credit: Michael Putland/Getty Images)
Queen guitarist Brian May and Black Sabbath riff-master Tony Iommi have been close friends for decades, and, for almost as long, the two have said that they'd love to collaborate with one another. 
Though the two have performed onstage - most notably at the Freddie Mercury Tribute Concert in 1992 - and in the studio together - for the all-star Rock Aid Armenia cover of Deep Purple's "Smoke on the Water" - no music from the two guitar gods alone has seen the light of day, yet.
When asked in a recent interview if there was any chance of the long-rumored meeting-of-the-musical-spirits occurring though, May didn't exactly rain on the parade.
"I think there is a chance. We do more talking than anything else, but we do a lot of talking," May told Guitar World . 
"He is really my dearest friend in the business and has been for so many years. I could write books about Tony because he's just the most [pauses]... I don't even know how to put it into words. You know, he's a luminous human being is Tony, with a wonderful, kind nature and an incredibly baffling sense of humor. 
"And, of course, he is the father of heavy metal. He did that. He made that happen. And it's from his fingers and his mind. That young ex-welder, he made that happen. So, you know, he forever wears that medal, I think. He founded this stuff, heavy metal, in my opinion."
Supergroups aren't always more than the sum of their parts but come on! It's hard not to root for hearing two of the all-time-greats join forces.
Get the latest news, reviews and product advice straight to your inbox.
Thank you for signing up to GuitarPlayer. You will receive a verification email shortly.
There was a problem. Please refresh the page and try again.