An Eddie Van Halen-Signed Kramer Paul Dean Guitar is Up for Sale
The guitar was gifted by Eddie in 1988 to Tom Weber, a man who would – 19 years later – become his guitar tech.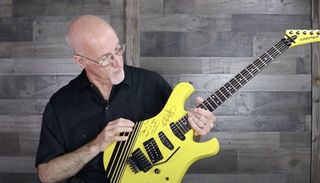 (Image credit: Five Star Guitars/YouTube)
If you've been paying event scant attention to the world of guitar auctions in recent times, you'd probably know that Eddie Van Halen-autographed guitars have been auctioned off like hotcakes in the months since his untimely death last October.
A new Eddie Van Halen-autographed guitar, though – put up for sale by Five Star Guitars – is unlike any we've seen in the last few months.
The guitar in question, a Kramer Paul Dean model, was signed by Eddie and gifted to Tom Weber in 1988 after a chance encounter. 19 years later, Weber would become Eddie's principal guitar tech, a role he would occupy until the latter's death.
Weber is selling the guitar – his "prized possession" – in the hopes of getting back on his feet financially after being out of work for the last year-plus due to COVID-19.
Weber first encountered Eddie Van Halen on October 4, 1988, before a Van Halen performance at the Starwood Amphitheater in Nashville, where Weber worked as the house audio engineer.
Weber had heard that Eddie's acoustic guitar had been damaged, and arranged – through the venue's Promotions Director, Robert Eva – to meet him.
"Introductions were made, and I told Ed that I had a guitar that I wanted him to have," Weber said. "He seemed a bit surprised that this was my personal instrument, and concerned as to my motivation for giving it to him."
Eddie warmed up to Weber, however, after discovering their shared love of Kramers (Weber was also a salesman for Kramer at the time). The pair went on to spend "the next several hours playing guitar, talking, and having a drink or two," during which Weber revealed that the only Kramer missing from his collection was a Paul Dean signature model.
When they parted ways, Weber said, "[He] gave me a big hug and he said, 'There's not very many people like you in the world anymore. Everybody wants something from me. You're the first person I've run into that doesn't want anything.'
"I said, 'Well, the only thing I want is that hopefully at some point we get to be good friends.'"
A few weeks later, a Kramer Paul Dean guitar arrived, bearing an inscription from Eddie that read, "Thanks Tom – a lot! I owe you one!"
Image 1 of 3
The guitar, Weber says, "represents the very beginning of my relationship with Ed," adding, "I was lucky enough to develop a friendship with him, eventually winning my dream job – becoming his guitar tech from 2007 right up until 2020.
"He was a true original, and so was this gift he gave me. I've treasured this guitar for many years and now it is time for it to become the prized possession of another collector.
"The only reason it is up for sale is the COVID-19 pandemic. We haven't worked in over a year. I'm trying to make sure I have a house when this is over with, and this is the best way to do it. That's why she's [up for sale]."
Tom Weber's signed Kramer Paul Dean signature guitar is available now for $60,000.
For more info on the guitar, stop by fivestarguitars.com.
All the latest guitar news, interviews, lessons, reviews, deals and more, direct to your inbox!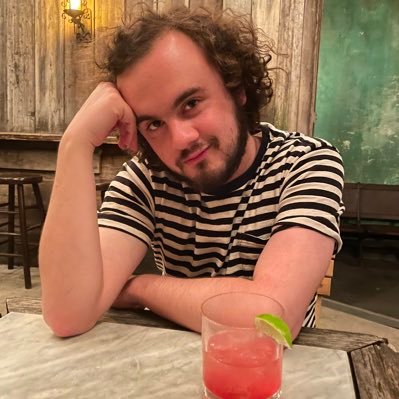 Associate Editor, GuitarWorld.com and GuitarPlayer.com
Jackson is an Associate Editor at GuitarWorld.com and GuitarPlayer.com. He's been writing and editing stories about new gear, technique and guitar-driven music both old and new since 2014, and has also written extensively on the same topics for Guitar Player. Elsewhere, his album reviews and essays have appeared in Louder and Unrecorded. Though open to music of all kinds, his greatest love has always been indie, and everything that falls under its massive umbrella. To that end, you can find him on Twitter crowing about whatever great new guitar band you need to drop everything to hear right now.