How to Make the Most of Your Practice Time and Become a Better Guitarist, Part 2
We conclude our two-part lesson on how to make the most of your time in the woodshed with tips from Joel Hoekstra, Molly Miller and others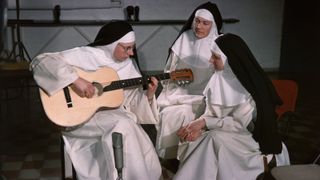 (Image credit: Keystone/Getty Images)
Last time, we explored the practice approaches and routines of great players like Pete Thorn. We learned about the importance of going beyond the notes when learning a favorite piece of music, as well as the value of challenging oneself to play a new style.
Let's get right back into it!
I first heard Patrick Hay (fons.app/@ patrickhay) play on singer/songwriter Matt Singer's stellar 2008 EP, The Drought, and I was moved and inspired by his subtle creativity. More recently, Patrick has toured internationally and recorded with Brooklyn band Great Elk, and he currently teaches guitar virtually.
Patrick recommends taking a lick you already know and learning it in as many different ways as you can find on the neck, even if the results are unorthodox.
He explains, "This opens up your knowledge of the fretboard, and will also help your phrasing because it makes you play things in registers you wouldn't normally play them."
Ex. 6 illustrates how you can do this with a simple blues guitar phrase you likely already know. (Time codes in the music notation refer to specific moments in the video.)
Notice how Patrick's outside-the-box thinking results in something unexpected and fun in the last bar. Also, be sure to take note of his recommended fingerings for the tricky spots!
Oscar Bautista is one of the most versatile players I know. He's a session and Broadway guitarist currently on tour with Pretty Woman: The Musical.
Oscar told me that he consistently works on his tone, timing and technique by recording himself and critiquing the playback, and he highly recommends this for everyone.
For Ex. 7a, put yourself in Oscar's place, sitting in the pit band for a Broadway show. The phrase isn't exceedingly difficult technically, but would you be able to confidently play it accurately and in time, knowing your guitar might be front and center for this part of the show?
On Broadway, it is also the guitarist's responsibility to sculpt guitar tones for each part he or she plays. To facilitate this, Oscar uses the same method to critique his tone and choice of effects.
For the music in Ex. 7b, he went with a Leslie effect. What would your choice be?
Oscar demonstrates that listening with the intent of objectively critiquing your own playing can help you improve more quickly.
I've known Mark Marshall since the mid-2000s, when we met after a show at New York City's Rockwood Music Hall.
Renowned for his creative playing and tones, Mark has performed as a sideman and in his own bands for years. He also now spends much of his time working on composition and recording projects, which run a remarkable gamut of styles and draw upon all manner of instruments and sounds.
Mark recommends honing your ability to play what you hear, via a concept he learned and refers to as "HSP" – "Hear, Sing, Play."
First, choose a simple chord progression, like the one in Ex. 8a. Then record yourself singing short melodic phrases as you strum the chords. Finally, listen back to figure out those melodies on guitar and experiment with adding bends, slides, vibrato, etc., to make them come alive. (Hmm, along with Pete Thorn's, here's another mention of this same type of attention to "touch" detail!)
See Ex. 8b for one of Mark's sample melodies, along with one way to approach playing it on guitar. Now try coming up with one of your own!
Sure, this doesn't feel the same as using your practice time to play scales or learn your favorite guitar solo. But HSP gives you a concrete way to actually practice making your playing more musical.
Trust that this is time well spent, as it will put you on the road to finding your own voice. Give it a shot!
Molly Miller has recorded and toured with major-label artists such as Jason Mraz and the Black Eyed Peas. She is currently the chair of the Guitar Department at Los Angeles College of Music and also leads her Molly Miller Trio.
For Molly, a great way to improve your improvisational skills is to focus on chordal voice leading – how each single-note voice within a chord moves from chord to chord.
"You're creating a melody, whether you're comping [playing chords] or soloing," she explains.
Molly stresses that melody is key in improvisation, and so she focuses on the top voice for our purposes. The guitarist takes a simple chord progression, like the one in Ex. 9a, and first keeps the same melody note on top of each chord (Ex. 9b).
Then she recommends exploring other variations, for example, moving the melody up, as in Ex. 9c.
Lastly, Molly demonstrates how this can directly improve your improvisational skills, by taking the same approach, only now treating it more like a solo (Ex. 9d).
This is a fun and unique way to approach improvising. But remember what Molly says: "Melody, melody, melody!"
Jeff Berner spent over a decade as guitarist in the English experimental band Psychic TV and has done everything from hosting recording clinics to designing presets for Eventide effects.
These days, he is a producer/engineer/mixer in Brooklyn, NY.
Jeff sent this along: "I would try to learn vocal lines from records, paying close attention to phrasing, rhythm, spacing and note choices. There's a surprising amount to learn if you hone in on all of those attributes."
As we saw with Pete Thorn and Mark Marshall, here is yet another great player telling us that when you focus on the "little" things, you're actually working on the big things that matter. As an example, Jeff recorded the opening bars of the melody to the traditional Celtic folk song "Molly Malone" (Ex. 10).
The most notable thing evident in both the tab and audio is everything Jeff didn't do here, as he mainly employs just a few subtle uses of vibrato and slides.
I asked him about this choice, to which he thoughtfully replied, "I think there's merit in trying to make it simple and reflect the vocal phrasing. I imagined Bill Frisell playing it!"
Finally, I turned to Joel Hoekstra, currently of Whitesnake and Trans-Siberian Orchestra. I was fortunate to meet Joel before he became a rock titan, when he played on my self-titled first album back in 2006.
His playing can be lyrical and subtle, but I also knew that when I wanted to conclude this lesson with some fun, outside-the-box rock guitar madness, Joel would surely not disappoint.
Nobody shreds quite like Joel, and he demonstrates how we can use our imagination to take something common and make it new and exciting.
In Ex. 11a, the guitarist shows us one of his blistering legato licks. Here he combines two adjacent, overlapping positions of the traditionally two-notes-per-string Am pentatonic scale (A, C, D, E, G) into one that is expanded out to three notes per string.
Then, in Ex. 11b, he goes completely off the rails and extends it to four notes per string with a tapping lick that employs two fingers of his picking hand.
Now, some of you might be thinking, "Yeah, this just isn't my thing." But I'd encourage you to take a leap of faith and simply spend a few minutes to have some fun with it. Remember, Bess Rogers and Gilber Gilmore both challenged themselves to play something new, each with surprising results.
In addition to the fun licks, Joel also very much wanted to impart these words: "I'm really glad I've learned everything that I have learned. Stay open-minded and work on music. Every moment spent with it improves your hands and your ears, and consequently will make learning other things easier.
"Be productive every day! It's a daily process."
So it's the same for Joel as it is for the rest of us.
Amen.
Have a question or comment about this lesson? Feel free to reach out to Jeff on Twitter @jjmusicmentor or at jeffjacobson.net.
All the latest guitar news, interviews, lessons, reviews, deals and more, direct to your inbox!
Jeff Jacobson is a guitarist, songwriter and veteran music transcriber, with hundreds of published credits. For information on virtual guitar and songwriting lessons or custom transcriptions, reach out to Jeff on Twitter @jjmusicmentor or visit jeffjacobson.net.