Tempered Tonewoods and Meticulous, Minimalist Builds Give the Novo Solus F1 and M1 a Winning Vintage Character
Dennis Fano's new creations prove that, when done right, one pickup is enough.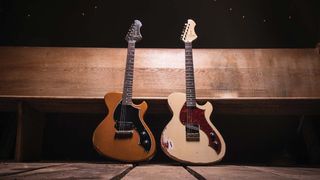 (Image credit: Jon Roncolato)
It's challenging to create new electric guitar designs that are both inspiringly original and comfortingly familiar. Yet, Dennis Fano has done it time and again, formerly under his own name, and for the past half decade as Novo Guitars, whose instruments have received near-universal acclaim since their arrival in 2016.
Now, two new Solus models, the F1 and M1, broaden Novo's design vocabulary further while paring the guitar down to its appealingly raw essentials. Any player even vaguely familiar with the boutique guitar scene will likely be aware of Dennis Fano's work.
Over the course of a decade, I've reviewed guitars for GP that include models from the Fano-made Alt de Facto series, Fano-branded guitars built under license by the former Premier Builder's Guild (PBG), and a Serus J from the early run of Novo guitars, the company Fano established in 2016 after his split from PBG.
Throughout that 10-year period, we've rarely seen guitars from other makers receive such unanimous and enthusiastic uptake among hobby and working players alike.
There's something just instantly loveable, even lustworthy, about Fano's work, and for many guitarists the designs that have come out of his Nashville-based Novo workshop have propelled the desirability factor even further off the charts. Novo guitars are characterized by new lines and looks wrapped up in builds that are appealingly retro in style and feel.
Alternative woods and offset shapes, as well as high-end components, are all essential elements of these creations, and the results are consistently impressive.
Although the Solus models (named after the Latin word for single) are "new" for Novo, they are very much from within Fano's own wheelhouse, even if their shorter 24.75-inch scale and single-cut shapes initially seem quite different from the larger, double-cutaway, Jazzmaster-inspired Novos that have lit such a fire in the market these past few years.
"The first guitar that I designed was the Fano Satellite back in the late '90s," Fano tells us. "The Satellite shape was always changing. Every run was a slightly different shape from the ones that preceded them. I just figured that was how one designs or creates: You tweak until you achieve contentment.
"The problem was that I never reached that point with that model. Over the past 20-plus years, whenever I saw a Satellite, my eyes would immediately be drawn to the body lines that I had gotten wrong. I recently realized that the Solus is the design I was chasing all those years. I've finally come full circle, only this time I think I've got it right."
Though Fano initially planned to release the F1 on its own to ram home the "single-cutaway, single-pickup, single-model" theme, he says "the M1 prototype was just too good to hold back. After all, who doesn't love a guitar with a wraparound bridge and a dog-eared P-90?"
Fano explains that, while the new models might appear different from his current stable, "the design and build ingredients in the Solus are the same things that I try to incorporate in all of my designs: comfort, balance, ergonomics, flowing lines, attention to detail, and quality components.
"The little details, like rolled fingerboard edges and neatly shaped bone nuts, are what make all the difference when it comes to making a guitar play and feel great."
As with previous Novo guitars like the popular Serus J and its brethren, the Solus models are made with tempered (a.k.a. roasted) pine bodies and tempered maple necks, both capped with dark East Indian rosewood fingerboards on the models we received.
Vintage-loving guitarists may rave about "old wood," but these timber sources, which are specially cured at high temperatures, have been Novo's shortcut to the holy grail. The F1 and M1 exhibit bountiful, lively resonance and are impressively loud even when played unplugged.
"The tempered woods are consistently lightweight and more stable than kiln-dried wood," Fano explains. "Tempering crystallizes the resins that remain in the cells of the wood after kiln drying. It takes decades of air-drying wood to achieve similar results. This makes the wood extremely resonant, and the sustain is just incredible. You can feel every note in your fretting hand and in your body."
Beyond the basic lines and dimensions both models share, the F1 is kitted out in what might be dubbed "alternative Esquire."
The slab body carries a single Fralin High Output Telecaster-style bridge pickup (wound Broadcaster-style with 43 AWG wire to 10k ohms), suspended in a Gotoh "In-Tune" Tele-style bridge with compensated brass saddles. To enhance overall clarity, 500k pots are used for the volume and tone controls.
The finish on our F1 represents a $300 upgrade option on the base price. It's a creamy aged Olympic White over Candy Apple Red with correct gold undercoat, as revealed through the larger of the wear patches in this tastefully aged finish.
A color-matched headstock and tortoiseshell pickguard complete the package. Although it's cut to the same shape, the M1's body has softly rounded edges and is finished in bronze-metallic Gold Top Gold (no upcharge here).
The finish is aged, but with a little less wear overall than the F1, and it's complemented with a five-ply black pickguard and Bull Black headstock facing. The single Fralin P-90 pickup measures around 8.5k ohms and is also routed to a simple volume-and-tone setup. The bridge is a lightweight aluminum wrapover with a compensation ridge for improved intonation.
The necks on both guitars are virtually identical and are yet another extremely appealing feature. The maple used for each displays flamey grain, made all the more luscious, both visually and in the hand, by an amber-tinted nitrocellulose lacquer finish that has been worn down to a tactile satin feel over the length of the playing surface.
Novo's "beefy C" profile measures .880 inches deep at the first fret and supports the playing hand beautifully. Frets are medium Jescar 6125, immaculately dressed, with aged Kluson tuners up top. Put it all together and both necks play superbly. As a long-time Tele nut, I was immediately drawn to the concept of the F1, and it certainly didn't disappoint.
But I was unexpectedly floored by the M1. It seems such a simple concept: Take a page out of the single-P-90 LP Junior playbook, but give it a bolt-on neck, a six-in-line headstock and alternative wood choices. In this case, however, the whole really does prove to be so much more than the sum of the parts.
I tested both guitars through a custom tweed-Deluxe-style 1x12 combo and a Friedman Small Box head with 2x12 cab, and I thoroughly enjoyed every minute of the ride.
The F1 pulls out the Tele/Esquire-inflected tonal tricks you'd expect, but the 24.75-inch scale, hotter pickup, and resonant woods add thickness and meat to the stew, while thoroughly squelching the upper-range ice pick you sometimes get from this type. It not only plays superbly but also squeezes out a brawny, yet biting breed of twang through an edge-of-breakup amp that is utterly infectious.
The Fralin pickup dishes out the beef, but it doesn't sound "high output" in the least. It cleans up easily for beautiful chime and jangle, and mellows out nicely with a twist of the tone control, and the F1 absolutely snarls through the Friedman's lead channel.
Phew – what a guitar! The M1, on the other hand, while sharing the easy and compelling playing feel, urges you more toward garage-rock, punk, and edgier indie stylings. Its plugged-in response is louder than some of my humbucker-equipped guitars, yet it has a three-dimensional sweetness that adds swirl and bloom to more contemplative moments.
Compared with the F1, the M1 is a little warmer, thicker, and more midrange-forward, as you'd expect, though not necessarily hotter. The voice is a tad grittier and more granular, with a little more compression in the attack.
This guitar just rings, too, and rolls effortlessly from precise articulation and clarity to a throaty roar simply through a dynamic adjustment of your pick attack. Which is to say, it's ultimately more fun than any single-pickup guitar has a right to be.
As Dennis Fano put it to me, "Rockers will gravitate to the Solus for its straightforward design, but the M1 and F1 each cover a lot of sonic ground. It's true: You only need one pickup!" I couldn't agree more.
CONTACT: Novo Guitars
PRICES: Solus F1, $2,899 direct (including $300 upcharge for finish, as reviewed); Solus M1, $2,599 direct
All the latest guitar news, interviews, lessons, reviews, deals and more, direct to your inbox!
Dave Hunter is a writer and consulting editor for Guitar Player magazine. His prolific output as author includes Fender 75 Years, The Guitar Amp Handbook, The British Amp Invasion, Ultimate Star Guitars, Guitar Effects Pedals, The Guitar Pickup Handbook, The Fender Telecaster and several other titles. Hunter is a former editor of The Guitar Magazine (UK), and a contributor to Vintage Guitar, Premier Guitar, The Connoisseur and other publications. A contributing essayist to the United States Library of Congress National Recording Preservation Board's Permanent Archive, he lives in Kittery, ME, with his wife and their two children and fronts the bands A Different Engine and The Stereo Field.