NoteDetector iPhone App Developed by SwampTechApps Enables Musicians Singers and Songwriters to Identify and Record Music Notes
Everything you need to know about this smart app for musicians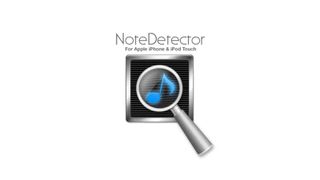 (Image credit: Note Detector)
If you're a musician, singer or songwriter, you've probably found yourself with a song in your head but nowhere near a studio or recorder to lay it down note-by-note... Problem solved. Enter NoteDetector, the one and only way to discover musical notes on your iPhone.
Sing or play into NoteDetector and see the notes on a guitar fretboard, keyboard, sheet music or displayed in a list.
Developed by SwampTechApps located in San Diego, California, the cutting edge NoteDetector application (previewed during this year's winter NAMM show in Anaheim, CA) is able to detect and record your song note-by-note exactly how you originally intended.
Sing it. Detect it. Rock it.
Take it on the road. Take it to the studio. Take it anywhere!
The NoteDetector app – which has quickly proven itself among a variety of musical talent – was created by musician/songwriter Kevin Falk, a former bassist for such bands as Between the Buried and Me and Every Time I Die. As a member of the latter, he co-wrote the song "The New Black," which was featured as a bonus track on Guitar Hero 2 as well as the PlayStation 3 game, MotorStorm.
"This was developed for musicians by musicians," states Falk, whose various bands over the years have performed at the same shows with the likes of Black Sabbath, Anthrax, Helmet, Bullet for My Valentine, Incubus, The Prodigy and Green Day. "Those who have used the application have immediately found it to be an invaluable and essential tool, which was certainly the intention from the very start. It's all about making the life of a musician, singer or songwriter just a little bit easier."
Falk initially came up with the idea approximately five years ago while on tour. "I could never figure out notes and how to play songs by ear," he comments. "I'd always have killer riffs in my head but could seldom figure out the notes even if I recorded the riffs... It's that experience that ultimately became the inspiration for NoteDetector."
The app gives users extreme flexibility with the option of saving recordings with or without note results... and if you'd like to analyze at a later time, you can do that as well.
Vocalists will particularly enjoy the three settings (beginner, experienced and advanced) for their vocal ability.
Available via theiTunes App store at a price of $4.99, it's about the same cost of a quick lunch on tour, making the NoteDetector application as inexpensive as it is effective.
It's estimated that over 100,000 applications are now available and that over 3 billion applications have been downloaded on iPhones since their release in June of 2007.
But how many can actually change the way you work, live and create? If you're a musician, NoteDetector is likely to be one of those life-changing apps.
See a video demonstration here and see how it can make a difference for you.
The company welcomes all feedback in an effort to continually refine the NoteDetector application to perfection.
As with most iPhone applications, any future updates will automatically be sent free-of-charge to those who purchase NoteDetector.
All the latest guitar news, interviews, lessons, reviews, deals and more, direct to your inbox!
Guitar Player is the world's most comprehensive, trusted and insightful guitar publication for passionate guitarists and active musicians of all ages. Guitar Player magazine is published 13 times a year in print and digital formats. The magazine was established in 1967 and is the world's oldest guitar magazine.
When "Guitar Player Staff" is credited as the author, it's usually because more than one author on the team has created the story.